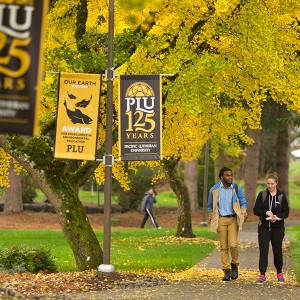 Preparation for law school at PLU is an advising system rather than a curriculum of prescribed major/minor or otherwise organized courses. The primary reason for such an approach is that the admissions committees of U.S. law schools generally recommend that applicants be well and broadly educated. They tend to seek applicants who are literate and numerate, who are critical thinkers and articulate communicators. In essence, they value exactly what a sound liberal arts education provides—indeed, requires.
Therefore, regardless of their declared majors and minors, students considering law school are encouraged to demonstrate proficiency in courses selected from across the disciplines and schools while undergraduates at PLU. An appropriate curricular program should be structured from a mix of the students' personal academic interests, their professional inclinations, and coursework aimed at developing intellectual skills and resources apt to generate success in legal study and practice.
Recent successful PLU applicants to law schools have taken such diverse courses as those in the anthropology of contemporary America, social science research methods, American popular culture, English Renaissance literature, news writing and argumentation, recent political thought, international relations, free-lance writing, animal behavior, neuropsychology, public finance, logic, and moral philosophy. Diversity and challenge are crucial to preparation for the study of law.
However, pre-law students are also advised to take courses, chosen in consultation with the pre-law advisor, that will help them to identify, develop, and explore perspectives on the character of U.S. law. Courses in U.S. government and history, judicial and legislative processes, research materials and methods, and internships may be particularly useful in this regard. Finally, students with an interest in the law are encouraged to participate in the activities of PLU's chapter of Phi Alpha Delta Fraternity International, a professional service organization composed of law and pre-law students, legal educators, attorneys, judges, and government officials. Students interested in pre-law advising and activities are invited to contact the pre-law advisor in the Department of Political Science.
---