Study in Africa Next Spring!
February 26, 2015
PLU has a fabulous study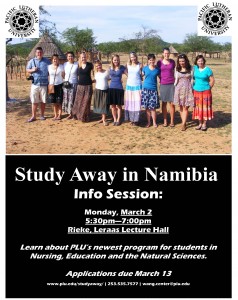 away program in Namibia for NSCI students. Come to an info session on Monday March 2 at 5:30 in Leraas Lecture Hall with PLU faculty and Namibian PLU alums. Students studying at the University of Namibia (UNAM) this spring call the program "fantastic" and their UNAM chemistry courses "awesome". The Wang Center deadline for application to the spring 2016 program is March 13th. contact Dr. Fryhle if you are interested in learning more about the Namibia program.