PLU Middle/High School Programming Contest
Overview
WHERE: Morken Center for Learning and Technology
WHEN: February 2024
COST: Generally $15/student or $30/team (need scholarships available – contact blahakd@plu.edu)
REGISTRATION: Registration is closed for the 2023 contest.
The contest brings together talented students from middle and high schools throughout the state of Washington to compete in a spirit of fun. The contest will test their programming skills and problem solving ability.
The competition lasts three hours, during which time each team tries to solve several (usually ten-twelve) computer programming problems using any of a number of programming languages (e.g., Java, Python 3.x, C++). The greater the number of problems a team solves, the higher its ranking in the final standings. Ties are broken according to how much time each team needed to solve the problems, including penalty minutes that are assessed for each incorrect solution submitted.
Each team consists of 1-3 students, and a middle/high school may enter any number of teams. In order that beginners as well as more experienced programmers may compete, there will be two divisions, (novice and advanced). The novice division consisting of students who have completed at most one computer programming class and have not previously placed 1st, 2nd, or 3rd in a programming contest. The advanced division is open to all high school students.
Following the contest, an awards ceremony is held. The top three teams in each division receive medals and the top team overall will receive a trophy engraved with their names and the name of their school. The winning team will retain the trophy for one year to display at their school.
All students are eligible for prizes in a drawing at the end of the awards ceremony.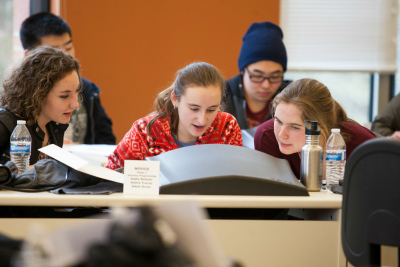 Past Sponsors
The following corporations and organizations have donated money, prizes, or services to support the PLU Programming Contest.