Lutheran Studies Conference Thursday, September 26, 2013
Breaking rules, honoring the ordinary, opening up God: Lutheran perspectives on Jesus of Nazareth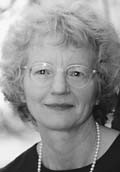 A wandering sage and tax resister; a promoter of justice and mystical lover of the soul; the "king of kings" and liberator from kingly rule; a friend of sinners and the awesome judge of the living and the dead: it would seem that no single image can capture the meaning of Jesus of Nazareth for the 2.2 billion persons who claim the name Christian. And yet each image holds considerable power to shape relationships, ethical commitments, and political sensibilities. Is it possible, then, that the ongoing attraction to Jesus of Nazareth, an attraction frequently found outside the institution that bears his name, is the diversity of images that open up, rather than restrict, the experience of the mystery of God?
We welcome Dr. Gail Ramshaw, distinguished Lutheran scholar of religious and ritual language, who will give the evening keynote lecture entitled "Jesus as Champion, Sacrifice, Lover, and Tree of Life: The Christian meeting of history and metaphor." Dr. Ramshaw's scholarly research on religious language continues to open up the meaning of Jesus Christ for those who live in a pluralistic and increasingly secular culture.
Through presentations, conversation, artwork, new publications, and the open exchange of ideas, participants in this third Lutheran Studies Conference will be inspired to consider the question: How does a poor Jewish artisan from a backwater colony of the Roman Empire continue to inspire people to break rules, honor the ordinary, and open up the experience of God? Be welcome, then, to this important conversation about Lutheran perspectives on Jesus of Nazareth.
Afternoon Presentations Schedule
For more information, contact Dr. Samuel Torvend, University Chair in Lutheran Studies
torvensa@plu.edu
Promoting the intellectual gifts of the Lutheran tradition