Currently Reading:
Explore! offers first year students a chance to bond.
January 12, 2009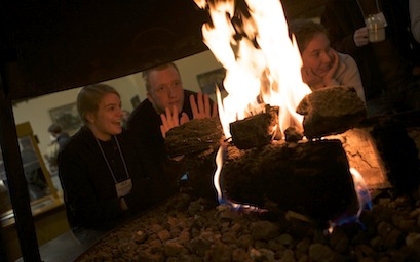 Turning passions into vocation
Last year, PLU sophomore Idaishe Zhou attended EXPLORE!, not knowing exactly what to expect but hoping for the best.
This past weekend, she returned to the annual retreat for freshmen as a student leader hoping to help the first-year students find what she did – an understanding of what vocation means and finding lasting friendships.
"It's really not about finding the answers, but knowing the questions," Zhou said.
Like many of the 165 freshmen that attended this year's overnight event at Camp Berachah, Zhou was hoping to meet new people. She did and says she still has very good friends that she met from last year's EXPLORE!.
"It's a good opportunity to get to know other students," she said.
It's something freshman Brandy Curtis was hoping for and the facilitators at EXPLORE! didn't delay in trying to deliver.
Shortly after the one-night campers arrived, staff, faculty and student leaders led the eager freshmen in a handful of ice-breakers to help them get to know a few people they didn't know before and maybe even take a step toward a new-found friendship.
"I hope to meet new people, make new friends and hopefully discover more about myself," she said.
These relationships are important in building a campus culture, said Campus Pastor Dennis Sepper.
"As a university that comes from the Lutheran tradition, we believe that everybody has a place, purpose and a role to play in service to others," he said.
The name for that is vocation, Sepper said, and the concept is important.
"One of the ways we find out what that place is, is by asking questions," he said
Those questions help in discovering skills and talents, which lead to finding meaning, purpose and joy in life, Sepper said.
Freshman Matthew Trestor has been searching for what he's passionate about.
"I came because everybody I talked to who went to it (last year) said I needed to come to this," he said.
He wants to find what he wants to do with his life and establish friendships that endure after college.
"I'm kind of hoping to meet a bunch of people I don't know," Trestor said.
What EXPLORE! does is give students a better sense of what vocation means, help in discovering their passion and make them mindful of where they are at and who is around them that can help them reach a vocational goal, said Staff Coordinator Amber Dehne.
"There are different transition issues we know our first year students go through," she said.
Going to college is a life-changing experience and understanding a new stage in life is no easy task, Dehne said. Finding the people and places to make life's stages connect and grow is part of EXPLORE!.
"I think more and more, PLU is able to show that is a core part of the university," she said.