Currently Reading:
Being part of a community
June 4, 2009
Living a life of faith focused through service to others
FOR KATIE BRAY, going to church and being part of a religious community – namely, St. Mark's Lutheran Church in her hometown of Spokane, Wash. – has always been an integral part of her life. Spirituality is fed from faith – a faith in God. For Bray, that hasn't changed.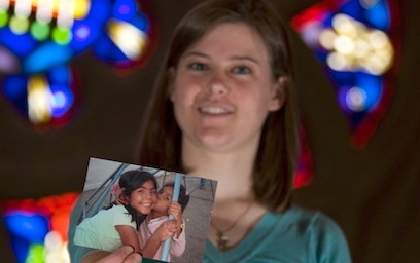 However, her time at PLU has made her re-think the way she defines and expresses her spirituality. "It has definitely become broader," she said. "I feel that I have discovered that I best express and live out my faith through service to others."
This really became apparent to Bray after spending two months of her summer break at Miracle Ranch Children's Home in Valle de las Palmas, Mexico, just southeast of San Diego. The home is for children who have been abandoned, neglected and abused.
The experience was incredible – for the simple reason that Bray was able to live faith at its most fundamental: By loving children who simply weren't receiving it.
Bray attributes the focus PLU places on being globally minded, thinking of others and emphasizing personal growth as key to preparing her for such an experience.
"Affirming this passion to serve others as part of my life's vocation has been very powerful," said Bray. "At the same time I feel a great responsibility. It has been a challenge to transfer this desire and calling to serve others into my normal everyday routine."
Working as a Campus Ministry intern has given Bray the opportunity to plan and lead various service projects throughout the year.
"It is a small way that I can help others discover their callings and where their gifts can be put to best use in service to others," she said.