Currently Reading:
Finding something bigger
June 4, 2009
Embracing the 'bigger questions' and living with a true sense of joy
CALLING ANY UNDERGRADUATE an expert in spirituality might be an overstatement.
But in speaking with Timothy Siburg, it is abundantly clear that he has done some deep thinking about the nature of spirituality at PLU.
And he has some serious credibility.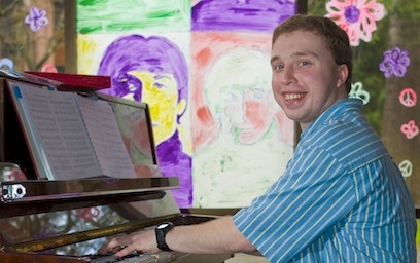 Last summer, he was one of only 50 undergraduates in the nation invited to attend the annual conference of the Fund for Theological Education, an organization dedicated to support young people as they explore and respond to God's calling in their lives.
Siburg graduated in May with a double major in religion and economics. He plans to attend graduate school and continue his research on the effectiveness of the service that religious, nongovernmental organizations provide in less-developed regions of the world.
"The overall spirituality of the PLU campus comes out of our focus on vocation," Siburg said. "It's the very Lutheran concept of looking at your passions and finding your life's calling."
For Siburg it is all part of the idea of answering a call to be part of something that is bigger than ourselves, trying to engage questions of service, finding what we hold most dear and learning how we can most effectively contribute to the social contract.
"Spiritual growth or exploration is unique to each individual," Siburg said.
He said many students take immediately to the ideas that are proposed at PLU during the First Year Experience program. These are the "bigger questions" in life that fully engage these students throughout their college careers.
"The best place to have deep spiritual conversations is in the residence halls late at night," Siburg said. "The deepest theological and philosophical conversations in my life occurred after 11 at night. That's part of the growth experience at PLU."
Siburg said many students at PLU gain a broad understanding of the Lutheran tradition of a values-based education just by watching others on campus live out their lives.
"The campus community models the tradition quietly – not in an evangelical way in the sense of going around preaching what they believe – but rather ideally living by example and serving by example with a true sense of joy and an understanding of grace," he said.
He said some students will not understand how the Lutheran tradition has influenced their education until after they gradate. "It may take them until later in life to realize that the concept of vocation that PLU is focused on is something that is inherently connected to the Lutheran heritage and tradition," Siburg said.