Currently Reading:
Flying high
June 4, 2009
Tilden flies high as Alaska Airlines' new CEO
As a boy, Brad Tilden '83 would look up from the yard at his home and see airplanes launch into the sky from the nearby Seattle- Tacoma International Airport.
Someday, he wanted to fly. And while going to PLU and working toward a degree in business administration and accounting, the high-energy Tilden did just that – he took what money was remaining from his summer jobs and began training for a private pilot's license.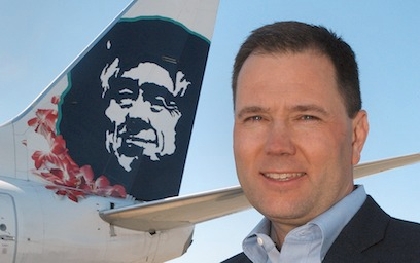 Never did Tilden, 48, think he would one day become CEO of Alaska Airlines.
Tilden has worked for the Northwest icon for the last 18 years, holding a number of posts including chief financial officer, rising to the post of president in December 2008. Prior to joining Alaska in 1991, he spent eight years with the accounting firm Price Waterhouse at its offices in Seattle and Melbourne, Australia.
A self-described geek and math lover, Tilden said he decided to go to PLU because he thought of becoming a teacher, and the school had a good reputation.
But once at PLU, he changed his mind.
"I noticed all the accounting majors had job offers waiting for them in the fall of their senior years," Tilden laughed. Today he serves on PLU's board of regents.
As he settles into his office, he looks at pictures of family members that crowd for space around his computer. They include his three daughters Lauren, 22, Jacquie, 20, and Maria, 17, and his wife, Danielle (Yoakum) Tilden '84. Tilden's sister, Juli Tilden '86, is a Lute, along with four of his wife's siblings.
When Tilden graduated from PLU in 1983, the country was facing a crushing recession. But then, as now, businesses were hiring people who will roll up their sleeves and do the hard work. And think creatively. And be problem solvers, he said.
"Every business has a shortage of this type of employee," he said. His college job at Amtrak helped him pay for PLU, but also taught him to work hard and be available to do whatever. In his case, that meant washing dishes on the train. It was because of this job, in fact, he had saved enough to pay for his pilot training.
This do-whatever-needs-to-be-done attitude has helped Alaska navigate an industry that has weathered 9/11 and plummeting passenger counts, soaring fuel rates and, of course, today's recession. Tilden credits Alaska's success to its people. "I don't think you'd find a team like ours anywhere else in the industry."
Despite the recession, the company is in good shape, with $1 billion cash on hand (much higher than other airlines), and the airline has snagged another JD Powers award for customer satisfaction. And as to what keeps him up at nights? There's the competition of the low-cost airlines such as Virgin and Southwest always nipping at the company's heels.
"To be competitive, you really have to keep innovating, and keep changing," he said of business survival in the 21st century.
The company now has one of the most fuel efficient fleets in the industry (all 737s), was the first to sell tickets on the Internet, the first to have check-in kiosks, the first to allow check-ins from home. After unusual items, Alaska reported a net income of $4.4 million in 2008, its fifth consecutive profit. The 3.5 billion company has tripled in size during the last 18 years.
Given all the work at the office, and shuttling the one daughter still at home to and from her events at Issaquah High School, there isn't much time for hobbies – like flying or cycling, another activity he enjoys.
But he's never lost that wonder of that young boy looking up at the planes. He'd like to get back to flying again.
"I know it sounds corny, but there's really nothing like it," he said.