Currently Reading:
Treated like a rock star
July 15, 2009
China: Tour like a rock star
While touring China this June, Luke Peterson '10 felt something a jazz drummer doesn't normally get to experience.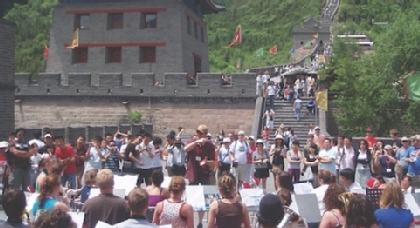 He was treated like a rock star.
Actually, it's something more than 60 PLU wind and jazz ensemble students felt at every one of their five official concert stops this summer and a number of collaborative workshops. From performances at China's most prestigious music schools like the Beijing Central Conservatory of Music and the Shanghai Conservatory of Music, to a gig on The Great Wall, audiences would "explode with cheers and applause," Peterson recalled, once the final note sounded.
"The people were really friendly and just welcomed all the Americans with open arms," Peterson added.
Often PLU performers would be asked for autographs after a concert. The students were only too happy to oblige. Sometimes that excitement would carry over to the tour bus – Peterson once had to exit the bus to sign more autographs and to pose with his new fans.
"It was very unexpected," he said. "We definitely don't get that in the states. It made the whole jazz band feel like rocks stars."
Even with obvious language barriers, music was one clear connection. While touring the PLU students had a chance to perform with Chinese musicians. "We couldn't speak to each other, but we could play music together," Peterson said.
It's that value in the simple things, like playing music and connecting with others, that Peterson will take away from the experience.
In one instance they stopped in Dujiangyan in Sichuan Province to perform an informal concert in a tent city that houses 10,000 people. They were still recovering from the devastating earthquake that ravaged the region a year ago.
After the concert, the PLU students played with the children and were saddened to see more than 1,000 children only had one soccer ball. So the students started a collection amongst themselves – nothing big, just more than $200 – and went and bought all the sports supplies they could find, from jump ropes to basketballs.
It was a small gesture that meant a lot.
"It's a great country," Peterson said. "You can go over there and spend very little and come back with a lot."