Currently Reading:
Prof talks about the life as a marine biologist
July 23, 2009
Being a marine biologist is a pretty good gig.
And why wouldn't it be? There are obvious perks, Michael Behrens admits, to having a job where diving is part of the package. Seeing creatures swim by as they hunt for food in the Galopagos is a nice benefit, as well as diving in the rocky shoals of Washington state, which he counts as among the most beautiful places on earth.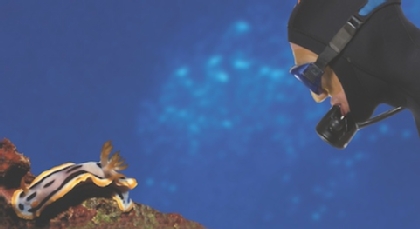 Even on land, he's busy reconstructing a whale skeleton  that will someday "swim" through PLU's Rieke Science Center.
You might say that Behrens, assistant professor of biology, grew up wiggling his toes in salt water.
As a baby, he was part of family outings where he was strapped into a backpack and brought out to the coast. This ritual continued as he grew older. "As a kid, I remember spending a lot of time at tidepools," he said. 
By the time he was 13 or 14, Behrens wanted to do anything but follow in his father's footsteps as a marine biologist. Then he took a marine biology class in high school, and the passion was reborn.
He was an assistant for his teacher his senior year in high school and she made him rough out the final exam questions, based on what he could see on the beach. It taught the future professor the importance of getting his students out of the classroom and onto the natural environment.
And, certainly, into the water.
"I love being underwater – free diving or snorkeling," he said.
Behrens, 35, admits that his passion for diving has faded – slightly – now that it's become part of the job. But discovering something new in his work, such as seeing a new species or at least seeing a species of fish he's never seen before – his passion for that never fades. It is why he got into this business in the first place.
Although he's been so some exotic locales, Behrens counts Shi Shi Beach (pronounced "SHY SHY" on the Olympic Peninsula as one of the most stunning places he's seen. Only accessible through a long hike or a  muddle two-mile, muddy hike, the beach spreads out in a series of tidepools guarded by stone sentinels which jut out of the beach, marching into the surf.
Although the surface of Washington's waters are muted grays and greens, underneath the surface or underneath a rock, creatures dress up in their best finery of sunset orange, magenta or neon green.
"That's why my students are on their hands and knees a lot," he said. "Many of these creatures are small, and you'll miss them if you're not up close."
Then there are some sites that can only be viewed underwater.
While diving in an Alaskan bay, the temperature gradients were so defined, Behrens looked down to see jellyfish "resting" with tentacles outstretched on a colder layer of water in a glacier-fed bay.
Or in the Galapagos, seeing penguins flying underwater through the tropical fish and coral.
"Seeing something you don't expect – like penguins in warm water – it's just great," he said.