Currently Reading:
'We were made to move'
September 23, 2009
When Professor Colleen Hacker was lecturing on the psychology of marathon running, a student in the audience began to think: "I can do that."
"Being able to share what you love with someone who also loves it is one of life's greatest joys," Hacker said. "To me it's the best part of being a life-long learner."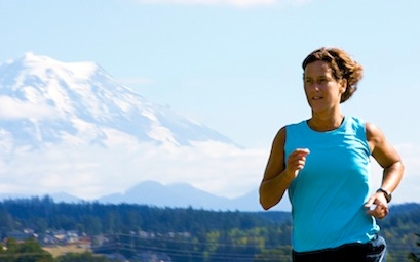 In her spare time, Hacker runs marathons and hikes across Washington. With more than 70 hikes planned in the state, it's a good thing the summer Olympics are three years away. She hopes to complete her list in five years – it just takes dedication. And motivation.
Hiking and running are  so important to Hacker because the training, the experience and the execution of athletics are very much about the individual. It is her time to be self-reflective and creative.
The rest of her time – in the classroom, the training room or on the field – is about others. "So much of my life is happily, 100 percent spent relational," she said.
For Hacker, she doesn't care if her students end up running a marathon or climbing a mountain. It's not about what or where – but the why, how and who with.
"The medium doesn't matter as much as the meaning," she said.
"I believe there is something for everyone," she said. "I think there is joy in moving.
"We were made to move."