Currently Reading:
Rising Star
September 30, 2009
Rising Star
Standing backstage, waiting for his cue to step onstage, Louis Hobson '00 does a reality check. He's in New York. He's on Broadway – in a Tony Award winning, and now Pulitzer-winning,musical no less. And he has a lead part.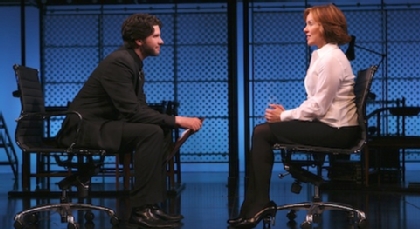 "Sometimes I can't believe I'm actually here," Hobson said. "I really expected to be busting my butt for a few years."
Hobson plays the doctor in "Next to Normal," the critically acclaimed musical about a family whose mother is suffering from bi-polar disease. It garnered three Tony Awards last June, and is generally considered to be the best new musical to hit Broadway in a while.
On Monday, April 12, the play won the Pulitzer Prize for drama.
And Hobson is right in the middle of it.
He admits he took a huge risk last year – a leap of faith, if you will – by leaving his wife and young daughter behind in Seattle, and coming to New York to look for work. He slept on a friend's floor and braced himself for years of small gigs and waiting tables.
But he didn't regret his choice. If there is one thing he learned at PLU, it was to follow his passion.
That was made even more clear his sophomore year, when his father nearly died from an aneurysm. He decided to switch majors from education, where his enthusiasm level was so-so, to theater.
"Life is too short to be doing something you don't love," he said.
Hobson credits his experience at PLU with helping him make it to Broadway. With so many opportunities – from student-produced productions to large touring chorale groups – Hobson was able to explore his passions. Moreover, because PLU is smaller than most state universities, it allows a theater or music student to really get involved and try a lot different things.
"A lot of [theater] programs are very limited in what you can participate in," he said. "Because PLU is the way it is, we all got to do a little of everything. I got to understand the mechanics of theater," he said.
While at PLU, Hobson helped plan the Night of Musical Theater, and he participated in the opera program. He was also in the Choir of the West, and got the opportunity to do the technical side of theater, working on lighting and tech design for several shows.
Once he made the major switch, his career progressed at a fast clip.
He auditioned for a role in "Camelot" at Seattle's 5th Avenue Theater, and got a part in the ensemble in only his junior year.
After graduation, he worked in various productions in Seattle, Olympia and Issaquah, in plays such as "West Side Story," "Miss Saigon," "Evita" and "Cabaret."
In 2003, a young artistic associate at the Village Theater asked him to read through a script he was working on called "Feeling Electric." The music was amazing, Hobson thought, but the script needed work. The production then moved to New York and he lost track of it. Five years later, Hobson decided that it was time to go to New York City.
He arrived in New York on a Friday in fall 2008. The following Monday, he was trying out for parts in "Next to Normal," the renamed "Feeling Electric." Feeling he might look too young for the part, he donned a suit and tried to grow a beard for his first audition.
After that Monday tryout, he got a callback. And then another. After several months, he was offered the role of the main psychiatrist and the pharmacist.
His wife, Noreen '99, moved out to New York, with their two-year-old daughter, Gwenyth. The family lives in Queens.
"It's the Astoria section of Queens," Hobson said. "But we call it 'Actoria' because of all the actors that live here."
Six days a week, Hobson takes a 20-minute mid-afternoon train to work, which drops him off in the theater district. His cluttered dressing room in the historical Booth Theater is cramped, and he shares it with another actor. They joke around and relax before the evening show time.
"Many people think you have to go to one of the big schools like, Julliard or Michigan, to really get into acting," he said. "But none of the cast went to any of the big acting schools. We all went to small, liberal arts colleges."
Stepping onto the stage, Hobson said he doesn't get butterflies anymore, but focuses on his lines and his character. Stepping out under the lights, he gets into the zone and gets ready to speak his first line. He counts on this routine continuing through this winter and into 2010, as the ticket sales continue to be strong for the musical.
One gets the feeling that "Next to Normal" will be a normal part of Hobson's life for some time to come.