Currently Reading:
Back to Normal
December 1, 2009
Back to Normal
A sense of relief.
That seems to be the common reaction from cab drivers, shop keepers, bureaucrats and baristas around Anchorage when Gov. Sean Parnell's name comes up.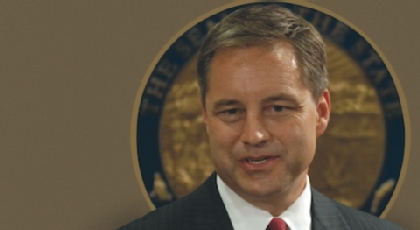 "Frankly, I'm glad he's there, I was getting tired of all the drama," said a cab driver who cranked up the heater as the first hard nip of winter blasted the city. "This guy seems steady, and I haven't heard any scandal attached to his name, which is good."
True and true on both counts. And Parnell '84, Alaska's 10th governor and PLU alum, isn't bothered a bit that he's been labeled "Captain Zero," or "Mr. Oatmeal" by political opponents. It underscores his quiet and deliberate leadership style.
"I take it as a compliment," said Parnell in his office, two months to the day after he moved into the governor's office. He's sitting with his back to a spectacular view of Anchorage, a city ringed by the Chugach Mountains, now tipped with the first flecks of snow – called "termination dust" by the locals.
After the 18-month turmoil of the national spotlight on former governor Sarah Palin, Parnell did his best to steady the political ship here and reach out to alienated legislators in Alaska, who hadn't been on speaking terms with the governor's office after Palin returned from the unsuccessful 2008 presidential campaign.
As he cruises through a typical 12-hour day, Parnell said his goals are Alaska's economy, families, and focusing on things like a responsible budget and anti-domestic violence legislation. Although he'd never put "being governor" on his to do list – he was considering a congressional run when Palin told him she was resigning – politics has always been part of his life. His father, Pat Parnell, was an Alaskan lawmaker in the 1980s who started his political career as a Democrat, then switched to the Republican party.
"Mom was a Republican and dad was a Democrat, and I chose right," Parnell said with a smile. "It made for some interesting discussions around the dinner table.
"Growing up, around the family dinner table we basically talked about public service and theology," Parnell recalled. The elder Parnell instilled in his son that being a public servant was a noble goal.
"I think even at PLU, he always felt the call to public service," said Sandy (Scebold '84) Parnell, who met her future husband her freshman year.
Parnell picked PLU due to the reputation of its business school, and worked his way through the university as a research assistant. Parnell said Sandy, also a business major, switched courses to take a political science class to get to know him better.
"She says she fell from a summa cum laude to a magna status because of the grade she got in that course," he laughed. There were so many Alaskan students at PLU, that Parnell remembers them carpooling to the airport and booking discounted packages back home for the holidays.
While former classmates generally remember Parnell as a reserved student, Sandy Parnell remembers a young man who was a really nice guy. "I tease him because he seemed to be the big brother to a lot of the girls on campus, but I think that's why I liked him a lot – he was kind and always treated people with respect," she said.
The two started dating their senior year. Sean Parnell earned his law degree and went into private practice. Sandy Parnell still works part time for now at a law firm, but will probably become full-time first lady, and mom, once the family moves to Juneau.
In Alaska, Sean Parnell was elected to the state house for two terms, beginning in 1992, and then moved on for a term in the state senate. He was elected lieutenant governor in 2006. He became governor in late July of this year, after Palin's unexpected announcement she was resigning. The Parnells only broke the news to their daughters after confiscating their cell phones so the pair couldn't text their friends before the news became public.
Don't expect Parnell, who never disagreed with Palin publicly, to criticize her now. He simply won't. He stressed when he took over, that he shared her "core values" of fiscal and social conservatism. That includes taking a staunchly conservative position on the budget, abortion, stem cell research, oil drilling and gay rights issues.
As for Palin herself, Parnell stresses he respects and admires her, and said he was initially surprised – but on further reflection, understood – when she told him that she planned to quit her job.
"She had her reasons and they made sense to me," he said, not elaborating.
But then he quickly turns the conversation on some goals he has while in office for the next 400-plus days – and yes, he does plan to run for a second term. For Parnell, it's all about the economy, jobs and energy concerns.
He favors drilling in the Arctic National Wildlife Refuge and on the outer continental shelf, but acknowledges that Alaska and the nation are looking away from crude and to something else, such as natural gas, of which Alaska also has an abundance, and could boost Alaska's economy and employment.
As for any environmental concerns this may generate, Parnell seems tempted to roll his eyes. But he doesn't. He said the ground around the oil pipeline and Prudoe Bay is much cleaner than, say, the parking lot at any local grocery store.
He is passionate about domestic violence issues, and holds up the Domestic Violence Act of 1996 as one of his proudest moments. Parnell's grandfather was an alcoholic who was an abusive man that regularly verbally and physically "pummeled" his kids, including Parnell's father. Pat Parnell kept his grandfather's actions from his children until they were adults, and his grandfather had died on skid row in Seattle.
"Through faith, my father broke that cycle of violence," he said.
A few more minutes of chit chat, and he glances at a calendar that started at 7 a.m. His immaculate desk is only covered with a few memos and photos of his daughters and the family dog. For the rest of the afternoon, it's a tour of the Port of Anchorage, followed up by a tour of a local health clinic in the suburbs. It's budget season and time for different constituencies to get the ear of the governor before he presents his budget on December 15.
Although the day is already into its 10th hour, Parnell listens attentively as staff members take him on a tour through the crowded clinic – which is often overbooked, with patients waiting for care. They plan to expand, but may need a few million if a grant doesn't pan out. They look expectantly at Parnell, who remains pleasant, but noncommittal.
"Budget time," he smiles as he climbs back in the SUV that seems to be the favored mode of transportation in this state. Then it's off to the airport and a flight to Juneau to meet with lawmakers later that night. It's going to be another long day.