Currently Reading:
Uganda Blog: Third entry
January 15, 2010
We have been in Uganda for three days including our arrival through Entebbe on Sunday the 10th.
I have never been more amazed by a country as I was when we were making our final descent into Uganda. Green rolling hills stretched out below our plane, then a massive flash of blue extended beyond our line of vision.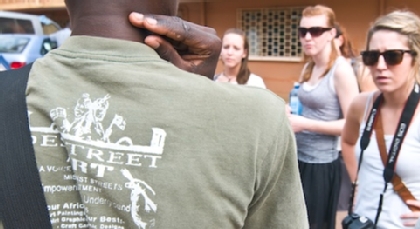 Lake Victoria, the largest freshwater lake in the world, houses a vast array of wildlife a majority of the fish that I have been consuming in Kampala.
The smell is breathtaking, much like gardening on a hot day, with a thick smell of earth and sweet smell that I have yet to identify. We hopped into a van and headed forty-five minutes across a crazy traffic filled stretch of roadway into the heart of Kampala for groceries. Everyone was incredibly exhausted and after picking papayas and mangos from a grocery, we either fell asleep on the bus or attempted to on the asphalt of the parking lot.
All of us are boarded at Makerere University in apartments on the edge of campus. The students are currently out for summer break, but even so the campus is alive with students and professors. The school houses about 13x as many people as PLU, numbering around 39,000 people and we were given the opportunity to learn from professors and students about the history and culture of Uganda.
One of the best experiences I have had thus far was exploring the market down the road from Makerere University. My first morning in Uganda, I wandered down the road with several other students to purchase fruit for breakfast. It was exciting figuring out the exchange and navigating through the different accents. I have never seen papayas the size of cats or tasted bananas so delicious. The people are probably the nicest in the world. I am falling in love with this country.