Currently Reading:
One-on-one with Kevin Boeh
January 26, 2010
Why a high-flying Wall Street investment banker chose to teach at PLU
There's a little letter 'm' on Kevin Boeh's American Airlines frequent flier card. Even though it's hardly noticeable, it signifies a pretty unique club – more than one million miles flown."So I've spent a lot of my life on airlines," the PLU assistant professor of business said.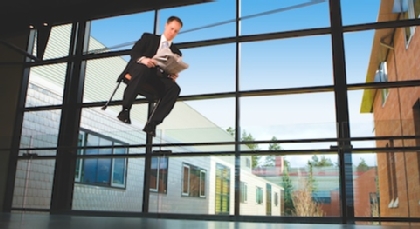 That's life when you're a highly sought after Wall Street investment banker dealing with accounts totaling in billions of dollars. Boeh (pronounced "Bay") would fly wherever the deal needed to be done. "As the saying goes," he said, "'Everyday's a Wednesday, I worked the last two and I'm going to work the next two.'"
So why would a high-flying financial whiz become a professor? It's not because he's slowing down. Boeh remains very active in the world of finance.
He remains active because he knows his involvement will benefit his students. By staying involved in investment banking, he can be sure to stay on the cutting-edge of the trade. Then, he can pass that information to his students.
"I fully intend to stay 110 percent engaged," Boeh said. "The beauty of this profession is that you can be relevant in the industry."
His goal is to make sure each of his students leaves school with at least one internship, and is ready to work from day-one of their careers. And he expects a full commitment from his students when it comes to learning.
"You should come into my class prepared," he said. "It doesn't mean you know every answer, that's why I'm here."
When Boeh decided to make the transition to teaching college, there were two factors that came into play. He knew if he was going to remain in investment banking, he had to live in either San Francisco or New York. He and his wife – who were starting a family – weren't prepared to do that.
"New York is a great place to live if you are a single guy, but I was just at a different phase in my life," Boeh said. "I did it; I got the T-shirt."
But it wasn't all about where to live, Boeh also needed to find what to do. As an MBA student at UCLA he taught a class. At the time he found the concept of teaching quite interesting – the perspective, the guidance. But he wasn't ready to give teaching his full attention.
"There were still some mountains to conquer," he said. "I have no regrets for every one of them, and I'd do them all again."
But after he reached a few peaks – or a few million miles, as it were – he knew finding his place as an educator could be his next great challenge. He knew he could make an impact on the industry by preparing its future leaders.
Boeh figured that, with his experience, he could really mold the future pillars of this industry and give them not only the textbook tools, but the real-world knowledge to be giants. "I want to make them valuable in the market place," Boeh said.
He is eager to impart that knowledge on his students. Learning may start as a derivative, but how you apply that knowledge is key to success.
"That is a tremendously powerful thing," Boeh said. "I wanted to go into the classroom and make a difference in people's lives."