Currently Reading:
Uganda: Food blog
January 28, 2010
One of the things I have found most exciting about living in Kampala is trying a variety of different cultural foods.
There are many different places that you can try these foods, ranging from expensive and boutique to roadside vendors on highways between towns.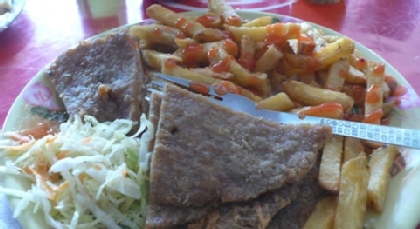 "The food here is not only delicious, it is a cultural experience that is not to be missed." (Photo by Theodore Charles'12)
I decided to throw together a short list of some must haves. These are off of the top of my head, so who knows if they are in order of favoritism or not.
1.) Indian Food – This is very common in Kampala and can be found in restaurants ranging from expensive to affordable. I love Indian food with a passion and I have never had anything that I didn't like. I have had it a total of three times this trip from two locations and loved it every time.
2.) "All Food dishes" – These are traditional Ugandan foods that are generally found in cafes and roadside vendors. The plate consists of starchy and hearty foods that I have never been able to quite finish. Mashed banana, rice, beans, sweet potato, and corn meal mash are staples of this meal and it often comes with some type of meat.
3.) Chapatti – Much like lefse, this is a potato flatbread that is best eaten fresh and warm. It can be combined with other things like a tortilla or just eaten plane. It is a great snack and can be found almost anywhere for about a quarter a piece.
4.) Passion, Mango, and various juices – Everything is guaranteed to be fresh and good. I do not recommend packaged juice, because it may have a lot of sugar added, but all fresh fruit is good.
5.) Lassi – Returning to my love of Indian food is this yogurt and fruit juice smoothie. It is great for quenching thirst and cooling the burn of chicken vindaloo. My personal favorite is either a classic mango or pineapple lassi.
6.) Rolex – Not what it sounds like, a rolex is a chapatti with egg and onions rolled together and made fresh in front of you on the street. Absolutely delicious and inexpensive. A must have for breakfast.
7.) African Tea – Red sweet tea brewed with milk and often ginger. This can be found anywhere and is delicious anytime of the day. I usually don't have sugar in my tea or coffee, but I recommend one scoop for good measure.
8.) Fruit of any kind – Everything in Kampala is fresh and delicious. I have eaten so much pineapple that I may not be able to eat any home because I am so used to the taste here. Mangos are also very good. Oranges are not orange, but green and tart. Best bought from local markets.
9.) Chap – I had chap my first true lunch in Uganda. It is a pancake like substance made from flour and ground beef. It is a little greasy but quite good. I have only seen it at cafes.
10.) Passion Fanta and Chips – I never liked ketchup until I came to Uganda, the French fries, often called chips, are exceptional. Passion Fanta is also delicious and much different than anything you have had in the states. Stuff here is made with real sugar.
The food here is not only delicious, it is a cultural experience that is not to be missed. Even though you may not consider them cultural entities, McDonalds, Jack in the Box, and Taco del Mar are all representations of the American culture. Burgers, fries, milkshakes, and even burritos say something about who you are. Whether you are a vegetarian, strict carnivore, or on a diet, each represents personal preference and what is provided within the United States for consumption.