Currently Reading:
Cross-Cultural Coursework
January 26, 2010
Cross-Cultural Coursework
Even though Mike Engh '10 grew up in the rural town of Laurel, Mont., he had a good idea what it was like to study away. All four years of high school, his family hosted an exchange student from another country.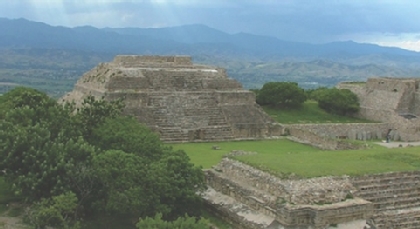 "I always figured I'd study away," he said. "Every year in high school I saw a different example of how it could make an impact on a person's life. It's why I came to PLU."
When Liz Pfaff '10 came to PLU from her hometown of Bellevue, Wash., she had no plans to study away – she had other things she wanted to do. But she saw a math and Spanish focused study away trip to Honduras – well, that was too much to resist. She's a double major in math and Spanish. "There was just no way I could pass that up," Pfaff said. "Math and Spanish? That's who I am!"
Every student has a different reason for wanting to study away. And for every one of those students, and every one of those reasons, PLU makes it easy. There's a reason, after all, why more than 40 percent of PLU students (versus 3 percent nationally) study away at some time in their academic career.
PLU has an office, called the Wang Center for Global Education that, among many things, helps students find the study away opportunity that best fits their needs. And there are a lot of them. Students may study away for a full semester or academic year through PLU-featured, international internships and PLU-approved programs. PLU also has a unique semester structure that allows students to study away for a month in January called J-Term Programs.
And PLU has its gateway programs – four totally unique programs that have a curriculum that has been designed and approved by PLU faculty and, in some cases, taught by PLU faculty. All programs fit perfectly with PLU's long tradition of building an academically rigorous curriculum that is globally focused.
The programs are as unique as they are challenging. Each year, PLU has students studying in gateway programs in Chengdu, China; Telemark and Hedmark, Norway; Port of  Spain, Trinidad and Tobago; and Oaxaca, Mexico.
And here is the best part: Each of these programs cost exactly the same as PLU room and board for a semester. And financial aid dollars still apply.
It was in Oaxaca, Mexico, one of the four PLU Gateway Programs, that Engh and Pfaff had such engaging study away experiences. For Engh, who was a sophomore at the time, it was his first study away experience. For Pfaff, who was a junior at the time, it was after she returned from J-Term. "Honduras wasn't enough," she said. "I had to have more."
The semester-long Oaxaca program has three-parts, specifically designed to ensure each student has the support needed to succeed. It begins with three-weeks of language acquisition and general introduction to Oaxacan society, followed by eight weeks of inter-disciplinary understanding of ancient, modern and contemporary Mexico. When each student is feeling acclimated to his or her surroundings, they begin on a four-week full-time internship in the community.
Pfaff and Engh actually studied a year apart. But in talking with them, it is amazing how the stories they tell are similar – clearly they have a common love for this biologically diverse and culturally unique southern state of Mexico.
It isn't just the unique location or the wonderful food – though they certainly loved that. Not even the salsa dancing, which is an optional one-credit course and a seemingly weekly evening event. It was the community that they talk about, both during their time in Oaxaca, and again when they return to campus.
For Engh, the idea of community is made clear when he talks of his host family. (The Oaxaca program is the only PLU gateway program that has its students live with local families for a majority of their time. The other gateway programs offer apartment-style student housing.) His family treated him as … family. They would always include him in activities, meals – everything. He loved it. It was more than just a good way to enjoy the traditional hospitality of Mexico. It was also a great way to really learn the language and explore the social culture of Mexico.
"I even went with them during the Day of The Dead festivities, and visited the graves of their parents, " he recalled of the traditional Nov. 1 All Saints Day holiday. "It shows how close some students can be with their host families."
Engh also reflects on the idea of community after they return to campus – having a group of students that have a common set of experiences.
"That was the great thing about being with so many PLU students in Oaxaca," recalled Engh. "When you come back to campus, you have that support from your peers because they all have the same experiences as you do."
From Tamara Williams' perspective, associate professor of Spanish and creator of the program, that was the whole point. Even before the Oaxaca program, Spanish majors were already studying abroad more than any other major, usually through programs with other universities. But when these students returned, PLU's professors found that they had varying degrees of language ability – some good, and some not-so-good.
So, by building a program where PLU students study together under a PLU professor, they knew they'd get consistent language development and a community of students with shared educational and cultural experiences.
Williams is clear to point out that the program is designed to create educated, informed, experienced students who seek to work and serve in communities at home and throughout the world.
"You can't do social justice work unless you know where you are doing it," she said. "We ask our students to listen to the community and judge for themselves. Then decide."
In the case of Engh and Pfaff the decision was easy. Their times abroad were among the most important things they did during their four-year careers at PLU.
"Having the chance to study away was so important to me," said Pfaff. "It helped me recognize what my values were – I feel like I learned more about myself in those four months than I had at any other time in my life."