Currently Reading:
Your PLU Idol is…
February 1, 2010
Your PLU Idol is…
This year's PLU Idol winner pulled out all the stops, making all of Lagerquist Concert Hall his stage and getting the crowd singing along to his original song.
But the reason behind Taylor Hagbo's performance madness wasn't just to be crowned the third PLU Idol, but to catch the eye of a girl.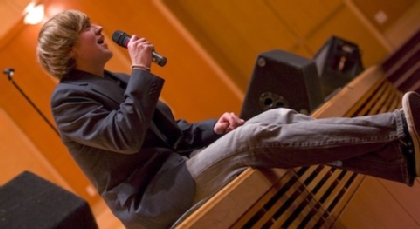 "I sort of did it on a whim," he said. "I was trying to impress this girl.
"I think it's working maybe."
He, like finalists Melissa Hornback and Megan Anderson, have really enjoyed making a connection with the audience by doing whatever it takes. Hagbo recalled that one of his first performances during the month-long competition had him going all out.
"The rage of the stage took over and I ended up sliding on my back across the floor," he said. "It's nice to get that connection with the audience."
He didn't hold back for the finale, using the whole of Lagerquist from the stage to the aisles and the audience themselves. Hornback didn't shy away from the theatrics either and Anderson brought a student on stage with her to liven up a musical rendition.
Hornback was a repeat participant, not making it through the first round last year, but making the final three this year. What's helped this year?
"You can't just be standing in one spot and you have to have sass," she said. "I really enjoy watching people perform."
It's so amazing seeing how many people can sing and what they can sing, Anderson said of her experience.
"I love to sing," she said. "It's kind of fun to sing outside of choir and voice lessons."
There is a ton of variety, Anderson said.
"As fun as it may be to watch people who can't sing, I can't do it," she said. "It is kind of nice to find out that your friends can sing and get them up there and support them."
All three contestants had the same advice for those on the fence about performing at next year's PLU Idol: "Go for it."