Currently Reading:
Meant to Live – Storm Chaser
February 16, 2010
Discovery Channel's "Storm Chaser," Reed Timmer, comes to PLU
The annual Meant to Live program is right around the corner here at Pacific Lutheran University, and this year's two-day event is sure to have something for everyone – including those who might want to explore their more adventurous sides.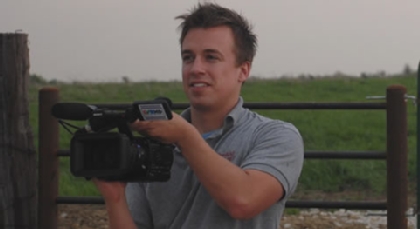 The keynote address of this year's Meant to Live program will be given by none other than Reed Timmer, noted meteorologist best known for his role on the hit Discovery Channel show "Storm Chasers," which has had three successful seasons.
Growing up in Michigan, Timmer had his first experience with storm chasing at age 13 in his own front yard. During a severe storm, he was hit by a golf ball-sized hail that destroyed the family video camera. "Ever since that day," he says, "I've been obsessed with extreme weather and storm chasing."
Timmer began studying meteorology at the University of Oklahoma in 1998, and throughout the next few years, his experiences with extreme weather drew him more and more into storm chasing – specifically when it comes to tornadoes. To date, he has captured over 200 tornadoes on film, beginning with his very first in October 1998.
Among his other noteworthy accomplishments, Timmer is the first person to ever capture high-definition video inside a tornado using a 300-pound TVN tornado probe. This feat was realized during the 2008 season of "Storm Chasers."
Since then, Timmer has taken it one step further and developed the "TVN Dominator," an armored radar vehicle that measures the vertical wind speeds of strong tornadoes.
He is currently working towards a PhD in meteorology at the University of Oklahoma, and plans to continue storm chasing: "I'll be storm chasing until the day that I die!"
Timmer's keynote address will be at 6 p.m. on Feb. 22 in the University Center, Chris Knutzen Hall.
Other highlights of Meant to Live 2010 include:
February 22
Choose Your Own Adventure – 11 a.m. – 2 p.m. in CK West
The Chemistry of Chocolate – 2 p.m. – 3 p.m. in the UC Regency Room
February 23
A Vocation for Animals with Bruce Bohmke – Noon – 1 p.m. in UC 201
NEXT Panel – 4:30 p.m. in UC 133
Women in Science Panel – 6 p.m. in the UC Regency Room
Meant to Live is a yearly program at Pacific Lutheran University that was created by students, for students. It is student-run each and every year, and is a part of the Wild Hope Project that also created and maintains the yearly Explore! Retreat for first-year students. The Wild Hope Project is made possible by a grant from the Lilly Endowment, which provides funds for universities nationwide to run programs that encourage the exploration of vocation.