Currently Reading:
Uganda: Murchison Falls Narrative
January 28, 2010
Uganda: Murchison Falls Narrative
This was originally recorded on the intensely bumpy dirt road back from Murchison Falls to Kampala, a trip that takes approximately five hours depending on the speed of the driver you have, which in our case was about as fast as they come.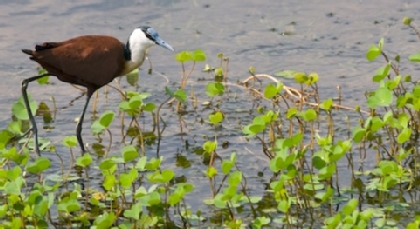 Our excursion to Murchison Falls began on Friday morning at about 9 am. We all crammed into three Red Chili sic Safari vans and rocketed northward.
We made two stops, one for money and a type of flatbread called chapatti and the other for lunch in the town of Masindi, about forty-five minutes south of the park gate. Our driver, Hasan, in my book was the most efficient driver of them all and even navigated paved gravel mounds with high-speed ease. Even though navigating by car is hectic in Uganda, I did not feel in the least bit scared due to the obvious experience Hasan had at maneuvering in the crowded streets.
The dirt road stretch between Masindi and our camp yielded a variety of creatures, including Hookbills, a bird the size of a child, baboons, warthogs, and small swarms of tsetse flies. Before heading to camp, we stopped at Murchison Falls and were amazed by how the waters of the Nile were jammed into a seemingly small gap of rock. The effect was both astounding and threatening. From there we headed to Red Chili camp to be welcomed by tame warthogs and cold bottles of Fanta, which is by far the best beverage to have on hot afternoons anywhere in Uganda. Several warthogs onsite were raised by the innkeepers and are quite fearless. At one point in time I was even nuzzled by one.
The next day, after a delicious meal and a nice sleep shrouded under a mosquito net we headed bright and early, 6:15 to be exact, into the savanna of Murchison Falls. Hasan shot us to the front of the ferry line and we were the first off of the boat. Dust surrounded our vehicle as we battled other vans to lead the pack of safari groups wanting to be the first to see lions on the prowl. Our van had the ability to lift the roof up so most of our van gazed out over the rolling grasslands while standing. Our group did not see any lions, but we saw just about everything else. Ugandan Kob, a gazelle like animal, were scattered everywhere, many times hiding in the tall grass with Hartebeest, Cape Buffalo, and a variety of birds, such as bee-eaters. At one point in time, our party literally ran into a stray elephant grazing from a tree, and thus almost caused it to charge. Our driver and Uganda Wildlife Authority rangers laughed hysterically at the van full of terrified wazungu as tires spun in reverse on the dusty path through the savanna. Nothing happened in the end and Hasan said that this happens relatively often with elephants. We spent several more hours spying vast quantities of other game and birds until returning to the Nile, crossing, and breaking for lunch in camp.
Following our respite, we drove back to the Nile and boarded boats for a cruise to the base of Murchison Falls. Hippos bobbed in the water like corks and kingfishers hovered feet from our boat, suddenly plunging into the depths to emerge moments later with some form of small prey in their beaks. Uganda has over 11% of the world's bird species, almost three times as many as the United States. This is astounding seeing as Uganda is about the size of Oregon. At one point, a Red Kite swooped in from shore and followed our craft for some distance until returning to where it came from as if to identify who we were and if we should be allowed to navigate her river. Sinister crocodiles slipped into the water great distances from us, only to resurface close to our boat. I was surprised by how small they seemed until we reached a portion of the river not far from the falls. Here they assumed their roles of massive prehistoric beasts. One of the most interesting sightings we had, among dozens of grazing elephants and bee-eaters was the main predator to the Nile crocodile, the monitor lizard. It is only three feet long but consumes crocodiles when they are most vulnerable, as eggs.
We reached the Murchison Falls at precisely the moment that the sky opened up. I have never seen it rain as much as it did on the river, as well as dump massive hailstones that sounded like bullet fire on the aluminum hull of the boat. Jake and Caitlyn were on the roof of the boat when it started. They came down completely drenched. I was amazed but immediately worried about the camera gear I had hauled onto the boat with me. It was already soaked, so I wrapped all of it in the life preservers under our seat. If the rain had blown in any harder than it did, I was prepared to shove as much as I could into my just emptied Nalgene for safekeeping.
We stayed tied up to an island in the middle of the Nile for about half-an-hour and then headed back into port. I clambered up on the roof for the last part of the journey back. At this point, I  decided that I had never seen any place as beautiful as Murchison Falls National Park. It is astoundingly beautiful, so much so that I would almost be willing to simply be a safari bum there for the rest of my life.
The next morning, we packed up our gear, checked out of our blue canvas tent, ate some pancakes with what seemed to be slightly fermented honey, and headed south toward Masindi and Kampala. Our next stop would be the Ziwa Rhino Sanctuary.