Currently Reading:
Dean of arts and communication named
May 10, 2010
Dean of School of Arts and Communication named
A chamber musician and soloist who has had an active and varied career as an administrator, artist and educator has been named dean of the School of Arts and Communication at Pacific Lutheran University.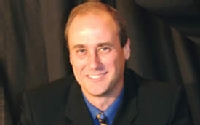 Cameron Bennett comes to PLU from Ohio Wesleyan University where he is professor and chair of one of the most respected liberal arts music programs in the nation.
He received both his Masters and Doctorate degrees in piano performance from the Manhattan School of Music. He also holds degrees from the University of Western Ontario and the Royal Conservatory of Music in Toronto, Canada.
Bennett has served in a diversified range of academic and artistic institutions, including large public universities, renowned conservatories, national liberal arts institutions, non-profit arts organizations and chamber music festivals. He was executive director of the ProMusica Chamber Orchestra of Columbus, Ohio, and was executive director of the MidAmerica Chamber Music Institute.
According to PLU Provost Steven Starkovich, Bennett "brings a long and exemplary record of teaching, scholarship, planning, fund raising, budget and personnel management, leadership and service to his new position at PLU."
"Our School of Arts and Communication will be very well-served as we move forward into the future with Cameron's thoughtful and steady-handed leadership," Starkovich said.
Bennett says he  looks forward to working with students, faculty, staff and alumni to enrich what he calls the already outstanding PLU educational experience.
"To combine the unique and challenging environment of a professional School of Arts and Communication with a strong liberal arts curriculum is the best of all possible worlds," Bennett said.
"The arts are all about communication," he said. "With the self-contained resources of the disciplines housed within the School of Arts and Communication, there is no better combination of creative talents to generate the opportunities necessary to fully support, engage and challenge the cultural leaders of tomorrow at PLU."
Bennett has performed as a soloist and chamber musician throughout the United States, Canada, Russia and the Far East. He is a founding member of the Marble Cliff Chamber Players in Columbus, Ohio and performs regularly with the Snake River Chamber Players in Keystone, Colo.
He served for many seasons as a chamber music performer and coach at the Victoria International Festival in Victoria, Canada, and as staff accompanist at The Juilliard School. He has taught previously at the Brooklyn Conservatory of Music and has given master classes at the Beijing Central Conservatory,
Shanghai Conservatory, and the Chinese Cultural University in Taipei, Taiwan. He continues to be in great demand as a collaborating pianist.
Bennett will join the PLU faculty this summer.