Currently Reading:
Intensive caring
April 26, 2010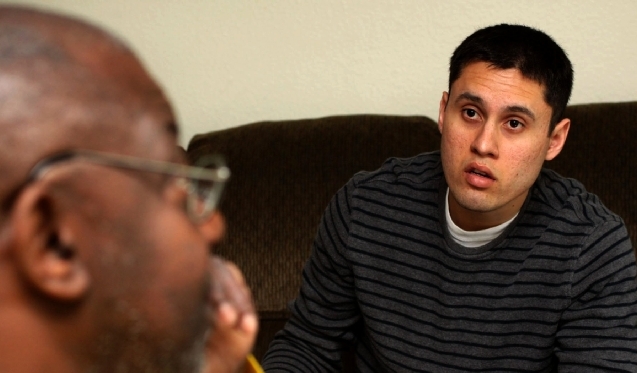 Intensive Caring – PLU nurses take their skills to cardiac patients at their homes
By Barbara Clements
Leo Rivas, a Pacific Lutheran University nursing student, had stopped by for a chat with his client, Trevor Modeste, 54, who lives in a tidy rambler tucked between a patchwork of farms and subdivisions south of Tacoma, Wash.
Usually Rivas – one of 160 nursing students participating in a joint PLU and
MultiCare Hospital System
to monitor the health of cardiac patients – just shoots the breeze with Modeste, usually talking about their favorite sports teams, after asking preliminary questions on his weight, eating habits and medications. But not today.  Modeste admits, after some probing questions from Rivas, that he hasn't been feeling well, and he's been having chest pains and shortness of breath – news that sets off the alarm bells for Rivas. The casual interview turns serious. He insists Modeste call his doctor… immediately. Modeste at first resists, not wanting to be a bother, but then relents.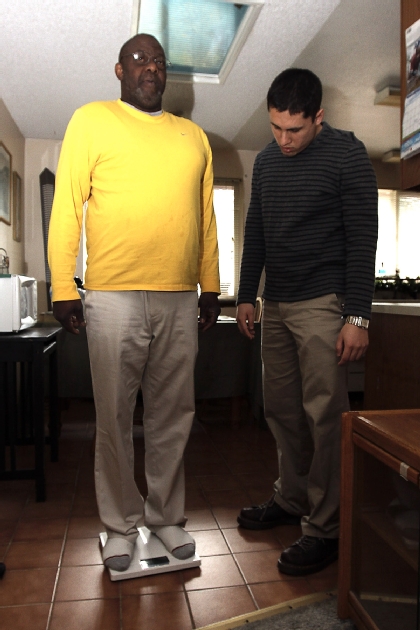 The nurse, after listening a few minutes, tells Modeste to get to the hospital NOW (an order heard clearly through the receiver) for a checkup. Modeste, who had bypass surgery three years ago, complies and they both leave for the hospital in Tacoma.
For the last two years, once a week by phone and twice a semester in person, 160 PLU nurses in training have been checking up on patients in the Pierce and King county area who suffer from congestive heart failure. This program – which is gaining national attention – was conceived two years ago, according to Terry Miller, dean of PLU's nursing program at a quality committee meeting at MultiCare.
The board was concerned with the readmit rate for congestive heart failure patients.
The patients were found to quickly return to the hospital after failing to understand the discharge paperwork – sometimes written in English, but most often not – failing to take their meds properly or at all, or ignoring diet and exercise regimens. With any chronic illness, there is a lot of risk time going home, noted Marlo Moss, MultiCare-Chronic Heart Failure Nurse Navigator and Clinic Coordinator.
The students are key in helping with the transition, especially for heart patients who might not have the support they need at home or are reluctant – and many of them are – to bother their doctor with follow up questions. At the time of the quality committee meeting in 2008, PLU had just received a $250,000 grant from the Robert Wood Johnson Foundation – to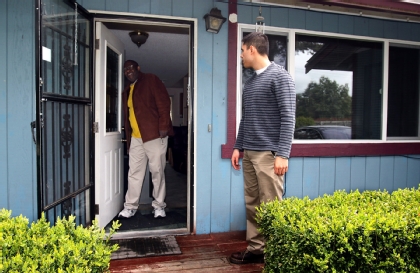 improve healthcare in the community. Miller thought having PLU nurses visit these recently discharged MultiCare patients would be a perfect match. So did Kathy Ueland, CHF RN Educator for Cardiac Service at MultiCare."These patients were frequently being readmitted to the hospital and therefore not meeting or 90-day benchmarks for the hospital readmission rates," recalls Miller. "So we proposed a home visit program for all the patients who would agree to participate in it voluntarily."When PLU senior Kelsey Carlson gave Elaine Streich (pictured, left) a call two years ago after Streich had had a valve replacement, Carlson was surprised, but game.
For all intents and purposes, Streich, 63, was trapped in her house.
Her husband did all the shopping, attended social events for the pair and even had to help Streich, who lives in Tacoma, tie her shoes. Streich was struggling with the idea NOT drinking too much liquid in her daily diet, and dealing with chronic diabetes. The dozen or so medications she was on were confusing and expensive, costing $600 a month. And some were at the wrong dosage, making her faint if she walked too far, even in her own house.
It was embarrassing, and the lack of the ability to do even the most simple tasks led Streich to deal with another challenge, depression. Carlson started counseling Streich about her diet, fluid intake and exercise. Over the last two years the results have been dramatic. The pair now always have their consults out of the house, on this day at a local coffee shop.
Streich has lost 70 lbs and now exercises five days a week. All blood levels are better. Carlson found programs to help pay for the meds.
She credits Carlson, 25, with helping her take control of her own life. Carlson knows that the program is paying off when she calls one day to find Streich isn't home.
"Her husband told me she was out with the girls."
These visits not only affect the patient, but the entire family, notes Scott Ross, a nursing student who decided on a career change after retiring from the Army as a Black Hawk helicopter mechanic five years ago. While serving in Iraq, Ross, 43, was impressed by the work he saw the nurses involved in as they treated patients.
"I really appreciated what they did for the troops," Ross said.
So, for the past three years, Ross has been studying to be a nurse, and for the past two, he's been working with Gene Meade, a fellow veteran who lives in Gig Harbor. When Ross met Meade, he quickly discovered that Meade was trying to pay his $300 medication bill out of his own pocket. Ross helped Meade and his wife navigate the VA benefits labyrinth and also discovered that he wasn't getting the disability benefits he should have been receiving for the last three decades.
"Took a couple of visits to figure out what was going on," Ross says modestly. "As a nurse, you don't' just take care of the patient, but the whole family."
It's this sort of attitude and the changes in the lives of the patients that recently won the Heart Failure Community Transition Program MultiCare's President's Award for community partnerships. Miller said he was surprised that PLU won the award, not because he didn't think the program was a success, but because of the stiff competition from such heavy hitters as Department of Agriculture and the Washington State Department of Health.
"There's some ground breaking work here that the health care community is just waking up to," he said. "It's making a difference in patient's lives. To me it's a beautiful marriage between practice and the health care needs of the community. When that happens, it's magical."
Moss, the program's nurse navigator with MultiCare, said this program might be one of the first of its kind in the nation.
Not that the program, at first, didn't have its detractors among doctors as well as students. Nursing student Megan Armstrong admits she was one of them. She was cynical and skeptical of how much good it would do. Another "to do" in a crammed nursing schedule.
But in a recent e-mail to Sheri Shull, PLU's pediatric clinical instructor and the coordinator of the Heart Failure Community Transition Program, Armstrong wrote she'd been won over by the program. She has visited her patient for the last two years and the woman, as of mid-April, is now in hospice. Armstrong plans to attend the funeral.
"I know I made a difference to my patient," she wrote. "And I know she made an even greater impact on me."
Again, and again, both patient and nurse say that friendships are struck that will last long beyond the two-year visits.
"I know they say you're not supposed to check in with them for professional reasons during the summer, but I do," admitted one nurse, with a grin.
Meanwhile, Rivas has been checking on Modeste every day since he checked into the hospital. He wasn't having a heart attack, but his doctor wanted him to stay in the hospital for another day.
And when Modeste returns home, no doubt, Rivas will drop by for a visit. This time, both hope they can talk about sports.
This report was prepared by Content Development Director Barbara Clements. Comments? Questions? Call her at 253-535-7427. Photography by Gilbert W. Arias.