Currently Reading:
Alum talks about his journey before and after PLU
June 29, 2010
Ensuring access to essential PLU programs
Tim Vialpando '02 has had an active relationship with PLU, both as a student and as a graduate. As a student, he served as ASPLU president and participated in the study group that developed the Wild Hope project.
Upon graduation, he worked as an admission counselor at PLU before returning to his native Colorado, where he now teaches high school. He also sits on the Alumni Board, and helps organize PLU events when they come to the Denver area.
"I was always inspired by what President Anderson always said, 'to those who much is given, much is asked,'" Vialpando recalled. "That has always stuck with me, as a student and as a graduate."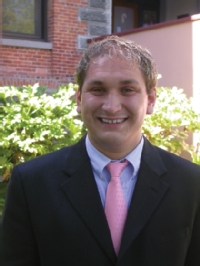 Soon after graduation, he knew that becoming a part of Q Club would another way he could both stay involved with his alma mater, and give back to it. He is particularly pleased to be able to ensure that a portion of his Q club donation directly benefits student groups and programs, like Wild Hope – something that was so important to him when he was a student.
And, too, it was not lost on him that, as an admission counselor, he saw firsthand how many students receive financial assistance through Q Club.
Vialpando also found another way to give back to PLU, though a donation to the remodel of Eastvold Auditorium. As a high school language arts teacher, he sees the everyday value of a strong arts program. And there is another tie – as part of his donation, he will be able to name a seat in the remodeled auditorium. It won't have his name on seat – it will have the names of his parents.
"It is a way for me to honor my parents for the contribution they made to my education," he said.