Currently Reading:
A generous couple
July 1, 2010
For Art and Jennie Hansen, a friendship that lasts a lifetime
Art and Jennie Hansen '34 gave generously to a number of charitable causes, said James Van Beek '60, '69, a close friend of the deceased couple and a PLU development director.
It was quite a blessing to have PLU as their top cause during their lifetimes, he added.
"Art and Jennie became dear friends beginning with our first meeting in 1967 in Honolulu when they hosted me and a gathering of PLU alumni and prospective students in their beautiful home," Van Beek said. "We became friends and stayed in touch over the years.
"When they retired and moved to Seattle in 1991, Art and Jennie became more involved and supportive of university activities."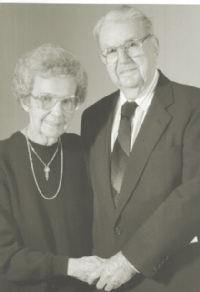 Their support continued through significant bequests to the university. The couple made countless generous donations to PLU, including gifts to the Rieke Science Center, the Mary Baker Russell Music Center, and $2.5 million to the Morken Center for Learning and Technology. Not to mention a President's Scholarship and many other scholarships and endowment contributions.
"During their lifetimes, they provided advice, encouragement and generous financial support for every major PLU fundraising effort," Van Beek said.