Currently Reading:
Ultimate National Champs
July 31, 2010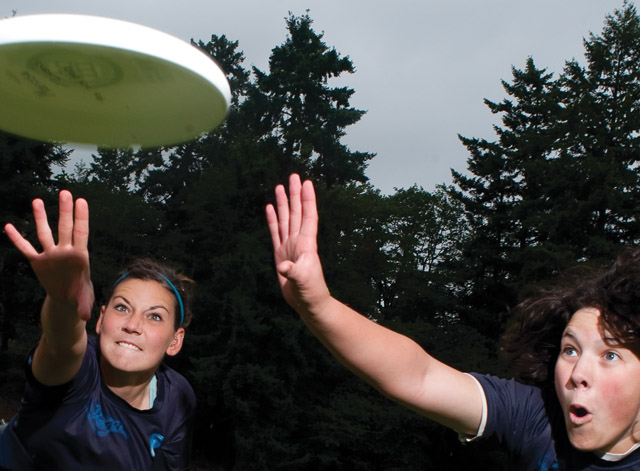 PLU Women win D-III Ultimate National Championship
By Steve Hansen
Before Angelica "Geli" Boyden '11 and Marissa Lyons '10 came to PLU, they had never thrown a disc before, let alone played the sport of ultimate.
"Actually, I threw the disc a few times," Boyden" admits. "I sucked."
Angelica Boyden '11 is one of 17 women on the PLU women's ultimate national championship team
Since then, a few things have changed. For starters, they can really throw a disc. And catch it. In fact, they and about 17 other women have become so good at it, you can now call them something else: National Champions.
2010 was the first official year the women's Division-III college Ultimate Frisbee teams have been able to compete for a national championship. The women's club team, called PLU Reign, was the only qualifier from the Pacific Northwest, and one of only two West Coast teams invited to the national championship tournament in Appleton, Wisc.
That Boyden and Lyons had never played the sport before coming to PLU made the championship even sweeter. In fact, only one of the women on the team had ever played ultimate before.
"We had two or three girls that had never even played high-school sports before they joined the team," said Lyons.
It is this community that Boyden and Lyons like so much about the sport. Anybody is welcome to join both the women's and men's ultimate teams – all you need is the willingness to try something new.
"After all," said Boyden, "we all came to the sport not knowing how to play."
Ultimate is a combination of several sports – the play is fluid like soccer, but there are two end zones like football. It is played with a single Frisbee – called simply a "disc" – which must be caught in the opposing team's end zone to score a point.
Ultimate is unique because, by rule, there are no referees – players are charged with enforcing the rules among themselves. It is a part of a player's code unique to the sport called "Spirit of the Game," which encourages sportsmanship and community over wins and losses.
That spirit is another thing that Boyden and Lyons like so much about the sport.
"Having fun is the number-one priority," said Lyons. And if a national championship comes with it, all the better.