Currently Reading:
Why eating at PLU is not your typical college dining experience
August 5, 2010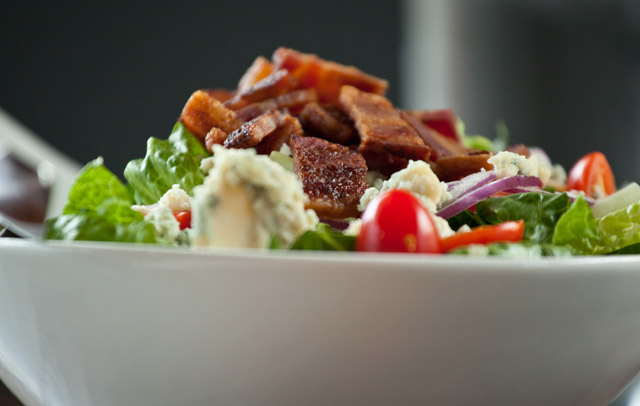 Why eating at PLU is not your typical college dining experience
By Chris Albert
At PLU, eating isn't just a cafeteria experience of hot dogs and French fries. You can get those too, but not every college dining experience also includes menu items like Korean tacos. By the way: Don't call it a cafeteria. It is kind of a bad word around PLU's
Dining and Culinary Services, said Erin McGinnis '90, its director. PLU has significantly remodeled its University Center, ensuring its dining commons and its other student-focused facilities are state-of-the-art. That gives McGinnis the flexibility to quickly create new – and delicious – menu items.
Like Korean tacos. A student suggested the popular street food – a tortilla filled with marinated pork, cabbage and ssamjang sauce – be added to the University Center Dining Common's menu.
"So, we Googled it," McGinnis said. "And two days later we're serving it."
They take comment cards really seriously, said Sarah Sandgren '11, a political science major. "They are always trying to come up with new ideas," she said.
She knows by experience. After visiting some friends at a few other colleges, Sandgren walked away with a different perspective. "When I was in those other cafeterias I was like, 'Wow, ours is way better,'" she said.
Sandgren is a big fan of the wet burrito with green and red chili sauce. And she loves any of the Asian options, like peanut noodles and pad Thai.
That's the whole idea, according to McGinnis – build a relationship with the students, and find out the food they eat and the food they want. Are there sustainable choices, including local and organic options? Can students find ways to make some of the same dishes in a cost-effective manner in their residence hall?
And then there's this: Is there an opportunity to educate students about their eating experiences? (PLU is all about education, after all.)
For instance, each year as part of "Culinary Week," Certified Master Chef Ken Arnone (and instructor at the influential Culinary Institute of America) comes to campus to work with PLU culinary service staff, keeping them up-to-date on the latest techniques and popular cuisines.
Students get in on the action, too. Arnone hosted a chili tasting for students this past spring, and he even emceed the PLU Top Chef competition, where students had to create masterpieces from items like Thai chilies and Red Bull. (For recipes, see next page.)
This happens all the time. Throughout the school year, Dining and Culinary Services teams with faculty and students to work on discussions and food-tastings like "To Brie or not to Brie," a look at the chemistry of cheese.
"We have knowledge, so how do we share it?" McGinnis asked. "Food is such a big part of culture." Student Stephanie Bivens '12 is also looking to share her knowledge.
As a student with food allergies, she is working with the university to create awareness and menu options for those who need alternative diets. When the music major brought her concerns to McGinnis, Bivens thought they wouldn't listen to her. No chance.
"It's like they're a part of your family – they're looking out for you," Bivens said. "I've been working with her (McGinnis) to make it a better dining experience for people with severe allergies and alternative diets. It's really comforting to know that's an option. It makes the entire college experience enriched."
PLU Top Chef
Like the television cooking shows "Iron Chef" and "Top Chef," PLU's Dining and Culinary Services hosts its own competition. Three teams made up of students and staff join together to develop a three-course meal in one frenetic night.
The Ingredients
Halibut, Dungeness crab, mild Italian sausage, arugula, red potatoes, local asparagus, horseradish, Meyer lemons, Thai chilies, hazelnuts, Beechers smoked flagship cheese.
The Mystery Ingredients
Red Bull and Cheetos
The Judges
Certified Master Chef Ken Arnone, PLU President Loren J. Anderson, among others.
(Tip to participants: Try not to make the president barf.)
Team One
Starter plate: Pacific Northwest crab cake with a Red Bull Thai chili vinaigrette and shaved asparagus
Entrée: Hazelnut crusted Halibut, flagship red mashed potatoes with essence of Cheetos
Team Two
Starter plate: Smoked Cheese crostini with arugula and Cheeto confetti
Entrée: Sauteed halibut with lump crab and a Meyer lemon Red Bull drizzle with horseradish potatoes and asparagus
Team Three
Starter plate: Chester's crab cakes with horseradish aioli
Entrée: Hazelnut crusted halibut with grilled asparagus and chili roasted potatoes
Photos by student photographer Theodore Charles.