Currently Reading:
New man on campus
August 16, 2010
New director has an 'open door policy'
Campus Safety has a new front man.
Pacific Lutheran University welcomes Sgt. Greg Premo as the new director and he plans to continue with the success former director Tony Berger left behind.
"I got the impression that Campus Safety has grown a lot in the past few years," Premo said.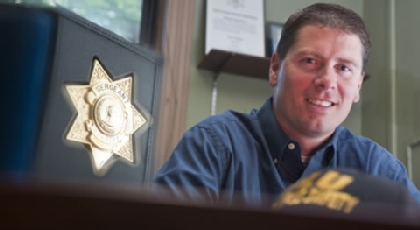 "My initial thought is to maintain that progress and reputation gained over the past few years. I would love to see (Campus Safety) expand and have even more student involvement."
Premo comes to PLU after a long-withstanding career with local law enforcement. He has worked full time for the Pierce County Sheriff's Department for 16 years.
Tom Huelsbeck, Assistant Dean of Campus Life who played a primary role in hiring the new director, said Premo comes in with extensive experience as an administrator.
"He is incredibly outgoing and friendly," Huelsbeck said. "He will fit in really well at PLU."
PLU is contracting with the Pierce County Sheriff's Department, and Huelsbeck said the hiring process is regimented within the department's employee regulations.
"This model of contracting with the Sheriff's Department for our director provides so many benefits to the university," Huelsbeck said. "It is a unique model. No other school has that."
Premo comes from University Place law enforcement, which is also contracted with the Pierce County Sheriff's Department. A high school graduate of Franklin Pierce and husband to a PLU graduate, Premo said he is very familiar with the university's history and was drawn to the position as a result.
"The history and culture of PLU is part of what attracted me here," Premo said. "Dealing with a college atmosphere seemed exciting to me."
Premo said his career has been strictly law enforcement, so he is excited to face new challenges that come with the territory of serving as director.
"Five to ten percent of the job is law enforcement," he said. "Ninety percent is a new realm for me."
Premo said he hopes students will utilize his law enforcement knowledge as a resource whenever they need guidance. He said even if he isn't able to help a student, he has the knowledge to refer them to someone who can help.
"I want to truly have an open door policy," he said. "Don't hesitate to come see me about something if you have an issue."