Currently Reading:
Contributions to Excellence
August 18, 2010
Contributions to Excellence
Alumnae are a proud group of people.
Instilled with a passion to give of themselves. Jean (Hesla '50) Kopta is no exception. Kopta graduated from PLU in 1950 with the bachelor's degree in education.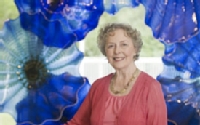 Later in her life, she returned to school to obtain her Master's degree in vocal performance. Her passion was to share her love of singing and music by teaching voice lessons. She landed at PLU at the Department of Music under David Robbins, who remains the head of the department. Kopta taught private voice lessons at PLU for 11 years. She also taught in her private voice studio while also serving as a choral director. Kopta left PLU in the spring of 2007, but not without making a positive impact on the lives of students of all ages, all levels of ability and all walks of life.
Her teaching career was complimented by her career in performing. Kopta spent many years in Seattle and Rome. She was selected to be one of eight sopranos in the first professional Seattle Opera Chorus; she proudly sang with that company for four years. In her later years, she sang opera scenes, arias, operetta and Broadway theater music in various clubs throughout Seattle.
"Jean is a gracious lady, a charming colleague, a thoroughly professional educator and colleague," said Robbins. Her contributions as a voice instructor at PLU, and to the Department of Music in particular, were appreciated. "We enjoy having a very strong voice area, and Jean has historically been part of that area and has contributed to that excellence that we enjoy," Robbins added.
In acknowledging her contributions to excellence, PLU created a new talent award in her name: "The Jean Kopta Artistic Achievement Award for Vocal Talent." The award will be given to three deserving voice students starting in the fall of 2011. Helping others is a fundamental goal of Kopta. "This award and its ability to help students means the world to me," Kopta said. "My passion is teaching. My love is music and singing. And my heart wants to give back to the music community. This award and the benefits to students is one way of achieving my goal. I am very honored."
Kopta's passion for teaching and her love for singing continue to this day.
She formed her own choir that entertains residents at local nursing homes and assisted living facilities. Kopta wants to share her gifts with others. "My choir members thank me for teaching them – I smile because they warm my heart. Seeing them excel brings me such joy. Sharing our work and knowing we bring smiles to faces is priceless. I thank my choir for allowing me to teach. It fills my soul like nothing else."