Currently Reading:
Built on strength, ready for change
September 3, 2010
State of PLU: 'Strong and stable'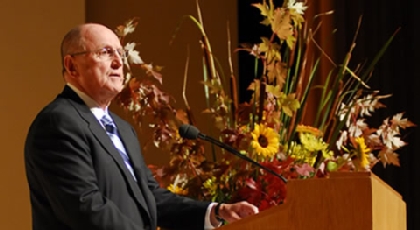 During a time of economic crisis, Pacific Lutheran University has not only managed to hold its own, but as a community, push forward with its vision to educate students who have a passion to make changes in this world, said President Loren J. Anderson in his state of the university address last week.
"My simple thesis is the university is strong and stable," Anderson said. "We are planning toward the decade from great strength."
As institutions of higher education have struggled under economic restraints, PLU has fared well by nearly every measure, he said.
For example:
– Stable enrollment, through a savvy marketing and recruiting plan, has garnered an incoming class of over 710 students. Add in transfers, and enrollment this year comes to just under 3,600 students. ACT and SAT scores increased and the entering class is the most ethnically diverse ever.
– No academic programs were eliminated or reduced. Retention rates for first-year students have topped 84 percent. The university continued to add to its number of Fulbright scholars, which now number 83.
– Despite a difficult economic environment, fund raising successes continued, with over 10,000 donors contributing to the university last year. Progress on the $100 million "Engage the World" Campaign has been steady, and moved the campaign to $80 million of last week.  Project Access reached its $1 million goal.
– New endowed chairs in Holocaust Studies and Elementary Education, as well as an endowed professorship in Lutheran studies were established last year.
– The campus has grown with new facilities, like the Martin J. Neeb Center – the new home of KPLU. The building is LEED Gold certified, which is the third building at PLU to receive such certification. Buildings that make up the university's heritage, like Eastvold, have undergone renovations and places like the UC Mezzanine have been outfitted to better serve students.
 Anderson acknowledged that many are change adverse, "given our conservative tendencies and governance structures, universities are particularly so," he said. But he said he was confident the PLU community will embrace the new ideas and programs with self-confidence and trust."When I think about tackling the issues we faced," Anderson said, "I am reminded of one my uncle Carl's favorite scriptural attribution, 'God never promised that it would be dull, or easy.'"
All this occurred in the same year that the country struggled through the worst economic depression since the 1930s.
"Everything we do here begins and ends with students," Anderson said.
After ticking off achievements from the past year – from Murdock grant and NSF awards, to accomplishments in Web-based communication, to visits on campus by an Olympic gold medalist – Dr. Anderson turned toward the future and how the university will continue to grow.
Although first-year retention rates are good, Anderson wants to them be better, up to 85 percent for the transition from first-year to second-year students. Key to this push will be first-year wings set up in all the residence halls, pairing new students with counselors and expanding the Career Planning Course.
The long-range planning course of PLU 2020 will continue to push ahead and shape the university's future. Some of the ideas coming forth from the study groups may be familiar, others may be unsettling or scary for some, Anderson said.
"The drumbeat of change is rumbling around us," he said. "The next decade our focus must broaden."
Some of the ideas that the university community will need to wrestle with include:
– The demographics of PLU's student body are changing. The student body will be more diverse- both ethnically and socioeconomically. And their learning styles will be different. "The implications for schedule and calendar, as well as campus and classroom are many fold," Anderson said.
– Technology in the classroom will continue to grow. While PLU will never be a fully online university, and at least in the short term, shy away from fully online classes, it must meet the expectations of a student body that expects PLU to have cutting-edge technology "if we expect to compete for the next generation of the best and the brightest."
– New Masters's programs need to be considered as well as possible Doctoral programs. A global focus to a PLU education must be maintained and broadened.
"Part of it has been careful management," Anderson said in explaining the university's growth and success at pushing towards its academic and economic goals. "Part of that has been just good fortune…simply put, we are able to focus on what we do best.