Currently Reading:
Best Foot Forward
September 10, 2010
Best Foot Forward
When first-year students came to campus for orientation weekend this past September, organizers made sure that, on that first Saturday, those students were promptly sent off campus.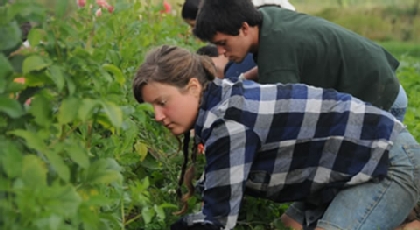 It was part of PLU's On the Road program, which takes place each year to help first-year students become familiar with the city and region that will be their home for the next four years.
Some explored the lava caves at Mt. St. Helens. Others learned salsa dancing at Abbey Ballroom in Tacoma. Some visited Tacoma's art and glass museums.
And some pulled weeds.
More than 390 students took part in On the Road, at 23 different locations. Four of those trips were designed help students find a place where they could volunteer their time and energy – all in that great Lutheran tradition of service.
"We've noticed over the years that the outdoor rec trips and the service trips are always the first ones to fill up," said Melanie Deane '12, ASPLU programs coordinator and student organizer of On the Road. "So this year, we wanted to make sure there were more opportunities for students."
One of those trips was to Tenino, Wash., where about a dozen students rolled up their sleeves and got muddy at Left Foot Organics, a non-profit farm which aims to promote self-sufficiency, inclusion and independence for people with developmental disabilities and rural youth.
"I just liked their mission," Anna Payton, a first-year student from Puyallup, Wash., said. "I really like that they give disadvantaged youth and people with disabilities the opportunity to work."
Payton and the rest of the students in her group spent the day learning about Left Foot's mission and helped farm workers pull weeds."Their hearts seem to be in the right place when it comes to helping others and providing healthy food for the community," she said. "It was a little hard work to help out a wonderful cause."
First-year Sarah Kintner, who came to PLU from Wenatchee, Wash., because of the strong sense of community, said she went on the Left Foot trip to play in the dirt. "Volunteering for something like that was a great opportunity to have fun and get to know some great people and get muddy and dirty at the same time," she said.
Left Foot Organics was new to this year's slate of On the Road trips. The non-profit farm grows more than 50 varieties of vegetables year-round and harvests eggs to sell, as well as boasting a pesticide-free operation. It has more than 700 volunteers who put in approximately 3,800 hours of volunteer work last year.
There were three other On the Road trips that also sought to encourage students to find ways to be of service to others. One group went to Northwest Harvest, one of Washington's largest hunger relief agencies. Another group took part in a habitat restoration project on the PLU campus. Another trip introduced first-year students to PLU's own community garden, which donates organic vegetables to members of the Parkland community.
Kirk Rose, one of the employees for Left Foot, said he learned about the spirit of service while in college, and it was his love of volunteering and his farming background that brought him to Left Foot about a year ago. Trips to places like Left Foot encourage students to find the connection that Kirk Rose did – something that they love and give themselves to.
That was true for ASPLU's Deane, a Lake Oswego, Ore., native. Two years ago, she participated in an On the Road Trip to the Tacoma Rescue Mission, and that experience is still important to her. She's found more opportunities to volunteer there, and she expects the students on this year's trips will too. "It is an awesome way to continue community service," said Dean.
Cody Cano, a first-year student planning to major in biology, said he chose the trip at the last minute, but enjoyed the experience with the new friends he made.
"We all met today and we are working toward one common goal," Cano said. That goal might be called "community."
And that is something that first-year student Johanna Muller, who comes from Denair, Calif., definitely stands behind. "I live on a farm in California and I love volunteering and helping other people," Muller said. "This seemed like a good fit to start off the year."