Currently Reading:
Something I thought I'd never do
September 17, 2010
Something I thought I'd never do: Sing for 12 million people!
John Marzano never thought he would be on live television singing in front of millions of people – but that's exactly what he did alongside nine other close friends over the summer.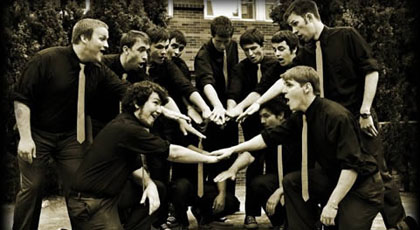 "I would have never, ever thought I'd be on the stage of America's Got Talent singing in front of 12 million people," said Marzano, a sophomore vocal performance major. "I've been singing since I was a little kid, so it was a thrill of a lifetime to be up there and having all those people watching me. It was great."
Marzano, president of PLU's a cappella group PLUtonic, wants to sing opera after college, but never thought he would rise to this level of fame before leaving PLU.
In July, PLUtonic made it onto the entertainment reality show "America's Got Talent" as one of the 12 finalists in the show's national YouTube contest.
"Before we knew it we were down in LA jumping right into rehearsals," Marzano said. "We were really excited and nervous about it."
Immediately after hearing they were one of the finalists, PLUtonic members had to make arrangements to travel to Hollywood.
"It was really nerve-racking to think that in two weeks we would be in Hollywood with cameras in our faces with America judging us," Marzano said.
Senior Phillip Serino, another PLUtonic member studying music composition, said it wasn't the stage that gave him the jitters, but the thought of the audience viewing the performance live.
"Knowing that we were being viewed by 12 million people was very weird," he said. "It's a really small place. I think I was more excited than nervous."
"It was pretty amazing," said Daniel Gilbertson, a junior biology major. "It's exactly what you'd expect it to be. Performing in front of that many people is exactly what we're looking for as a group."
The group was busy with publicity interviews, AGT video shoots and rehearsals for two weeks on this all-expenses-paid trip.
For the live show, the group performed a rendition of the song "Low" by Flo Rida and received positive remarks from the judges. Following the live performance and nationwide voting, PLUtonic was in the last elimination round during the live results and was the second-to-last act eliminated, bringing their journey to an end.
Marzano said that even though PLUtonic didn't move on in the competition, the group was happy with the performance.
"I wasn't bitter but I was definitely surprised (that we didn't move on)," Marzano said. "The contestants were all super talented. It was disappointing but we were happy for the people who made it through."
Serino and Marzano both said the final two contestants who moved on following PLUtonic's elimination on the live results show were the contestants who were particularly close to the PLU group.
"Christina and Cam were our really good friends," Marzano said. "We hung out with them a lot on and off set."
Serino said the group spent a lot of time playing "silly games" to pass time backstage.
Both Serino and Marzano said the experience was a great bonding opportunity.
"For me, it wasn't about AGT so much," Serino said. "I had more joy building relationships with the group and with people backstage."
Marzano said he was friends with all the PLUtonic guys before, but those friendships grew deeper through this experience.
"We bonded a lot down there," he said. "We are closer than we've ever been because of this experience."
The members of PLUtonic may have finished their national journey, but their journey is just beginning.
PLUtonic is continuing work on an album which is currently in the editing process. The members of the group have been working with one of the top a cappella producers on the West Coast, and Marzano said he hopes the album will be available for sale soon. The group also held try outs two weeks ago, and have chosen several new members.
Reflecting on the experience, Marzano said PLUtonic now has something to look back on and be proud of even though they didn't make it through eliminations.
"Everything happens for a reason, and I feel like this is only the beginning for PLUtonic," he said.