Currently Reading:
Determination pays off
September 24, 2010
Determination pays off
Sally Osborn was sleeping on a friend's couch.
She was worried about her two kids, who were staying with a relative. She was also trying to figure out how to juggle her job and her classes at Pacific Lutheran University.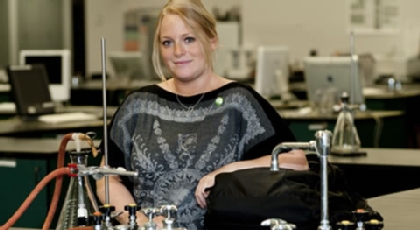 And her father had just died that month.
"But my counselor at PLU encouraged me to keep at it," said the 34-year-old transfer student and divorced mother of two, who is now living with her two sons in University Place. "I couldn't imagine having kept up my studies without her. She kept encouraging me to come in here and show everyone I could do this."
Osborn still managed to get A's and B's during that challenging semester.
Osborn had long wanted to pursue her degree, but was discouraged by her ex-husband, who often sniped he didn't think she was smart enough to make it in college. These type of remarks caused Osborn to finally withdraw from PLU in 2002. But after her divorce, she reconsidered pursuing her dream, and re-enrolled in 2008.  Osborn now plans to graduate in 2012 with a degree in chemistry.
PLU first came on Osborn's radar when she was at Pierce College, trying to earn her associate's degree in 1999.  She noticed that the chemistry book she was studying from was written by PLU chemistry professor and department chair, Craig Fryhle.
"I just knew then I wanted to come to PLU and study under him," Osborn said recently during a break between classes and work in the University Center. When Osborn finally enrolled in PLU two years ago, she set a goal of earning her bachelor's.
Assistant chemistry professor Neal Yakelis said he was impressed when he first met Osborn.
"I remember seeing her in my inorganic chemistry class," he said. "She sat in the front row and I noticed how thoughtful her work was. Her lab notebook was impeccable."
"Chemistry is not an easy major, and I'm so excited about her learning process," he said. "She is inspiring."
And determined. She faces a grueling schedule by anyone's measure. Osborn gets her kids, Gabriel, 8, and Joshua, 4, up at 6 a.m. to get them off to school by 8 a.m. Between 8 a.m. and 5 p.m. she works or goes to class. Once she gets home at 6 p.m., she devotes herself to her sons, helping them with their homework and playing with them. Once they are to bed at 8 p.m., she spends the next five to six hours studying, often to 1 a.m. And five hours later, it begins again.
Osborn downplays the sacrifice and her perseverance. She credits her professors with giving her extended times to finish labs or work if necessary, such as when one son came down with swine flu. She also has high praise for her counselor Marci Pecchia, who provided a steady flow of encouragement, and advice, being how to juggle classes or find scholarships or loans.
She's working with Fryhle as a research assistant with the university's the nuclear magnetic resonance spectrometer, and hopes to eventually become a research chemist and attain her doctorate. Without the support system at PLU, Osborn doesn't think that dream would ever become a possibility.
"This place and the people are amazing," she said.