Currently Reading:
Music is very much alive
October 11, 2010
Music is very much alive
Several months ago, PLU music professor Edwin Powell began collaborating with Norwegian-born composer Ola Gjeilo.
"It's all been done over Facebook," Powell said.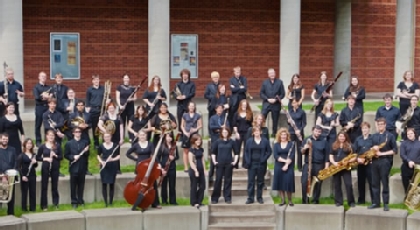 Powell, the Wind Ensemble director, asked Gjeilo for permission to adapt a chorale piece Gjeilo had done for wind ensemble. He soon found out, Gjeilo was not only interested in it, but also interested in composing a piece specifically written for wind ensemble. Gjeilo, a New York based composer, is well known for his choir compositions, but wind instruments was a medium he had yet to tackle.
"A few months later he said 'I think I'm going to do this,'" Powell said. "Over the summer his enthusiasm for it grew."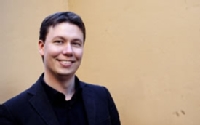 The cross-country collaboration culminated in the world premiere of Gjeilo's piece Meridian, performed by the PLU Wind Ensemble, assisted by the Choir of the West and University Chorale on October 17 in Lagerquist Concert Hall. Meridian was specifically written for the PLU Wind Ensemble to perform. Also performed was Gjeilo's new arrangement of The Spheres from his Sunrise Mass. Gjeilo worked with the students on campus for a few days before the performance and even played piano during the premiere.
PLU has been the site for a number of world premieres, including works done by PLU faculty, like Greg Youtz, but this one's a little different.
To have a composer visit the premiere and sit in the audience for the concert is fairly common, Powell said. What made this unique was while Gjeilo was here he worked with the students before the final performance.
Having the opportunity to work with the composer and perform with the composer is such a unique experience, Powell said.
"The students were so excited about it," Powell said. "The music is very different and that's a good thing. I've never heard anything like it before."
Gjeilo was born in Norway. In 2001, he moved to New York to study composition at the Juilliard School. He's composed more than 30 published works, which have been performed worldwide. In all, the more than 100,000 copies of his works have been sold since 2007.
"I am so excited and honored to have my first, two-band pieces premiered at PLU," Gjeilo said. "I listened to some great recordings he (Powell) has done with the PLU band. When I realized I really wanted to start writing band music, PLU was the only place I had in mind for a possible premiere.
"Luckily, Dr. Powell was into it as well."
From composition to performance, Powell has worked with Gjeilo, via web, and the PLU musicians. What's great, Powell said, has been seeing the students give their input about the composition and ask questions like "How does Ola want this to sound?" Powell said the experience of working with a composer gives the students a first-hand experience unlike any other.
"It gives insight to the creative process and that's a very important thing to do and in provides depth," Powell said. "That's what we do here."
A student even commented that the sound is similar to the band Coldplay, Powell said.  When that observation was relayed to Gjeilo, he agreed: The piece does have the same vibe as the British pop group. Gjeilo describes Meridian as influenced by pop music, while The Sphere is more cinematic.
It just goes to show that music for wind instruments didn't die centuries ago, Powell said.
"There's a sense of awe that happens when you sight read a new piece," he said. "It's the first time human ears have heard it."