Currently Reading:
'No Salvation Apart from Earth'
October 11, 2010
'No Salvation Apart from Earth'
The Fifth Annual David and Marilyn Knutson Lecture will feature Mark Brocker '79 speaking about "No Salvation Apart from the Earth" starting at 7:30 p.m., Monday, Oct. 18 in the CK Hall of the UC.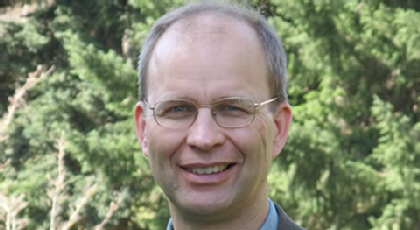 Brocker will discuss Lutheran Pastor and Nazi resister Dietrich Bonhoeffer's work – Letters and Papers from Prison – where Bonhoeffer asserts that Christian hope for the resurrection does not offer a last line of escape into the eternal.
Rather, this hope sends people back to "life on earth in a wholly new way.
"This world," Bonhoeffer writes, "must not be prematurely written off."
The excessive focus on individual salvation has led to a loss of concern for the well being of the earth, Bonhoeffer wrote.  The biblical vision of shalom (peace) entails the well being of the whole person and the well being with relationships with God, other human beings and all of creation, he asserted. Salvation can be understood as a healing process of moving wounded human beings and the wounded world toward shalom, Bonhoeffer concluded.
Brocker will discuss these views and the need to motivate people to be fully engaged in major ecological reform – turning from focus on one's self and one's own kind to love toward God, human beings and the earth.
As a student at PLU, Brocker took a course entitled "Modern Thought and Christian Consciousness." The course was taught by a professor named David Knutson, for which the lecture series is named, along with his wife Marilyn. Brocker was introduced to the work of Bonhoeffer by Knutson. While Brocker was attending PLU, and taking that course, Knutson went legally blind.
"It was inspiring how he found a way to keep on teaching in the face of this challenge," Brocker said. "I have always admired his love of learning and of engaging in lively, passionate, yet respectful conversation on the pressing issues of the day.
"Clearly he was a major influence in shaping what I am presenting in the lecture."
Brocker is the lead pastor at St. Andrews Lutheran Church in Beaverton, Ore. and a lecturer in theology and ethics at Pacific Lutheran Theological Seminary. He has served as volume editor for Conspiracy and Imprisonment 1940-1945, volume 16 of Dietrich Bonhoeffer Works (DBWE), and as co-editor for Ecumenical, Academic and Pastoral Work: 1931-1932, volume 11 of DBWE, scheduled for publication in 2011. The PLU graduate currently chairs the Environmental Ministries Committee of the Ecumenical Ministries of Oregon.