Currently Reading:
My Tribal Journey
October 25, 2010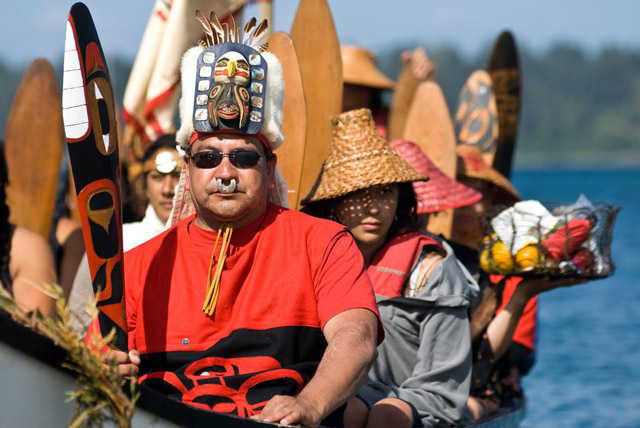 My Tribal Journey
By Theodore Charles '12
Every morning in Neah Bay, Wash., the cold fog would sweep through our camp and shake us from our sleep as we trundled across the grounds of the Makah Cultural and Resource Center for the showers.
It was my second time at Neah Bay. I had been here once before, part of a J-Term course, "Makah Culture Past and Present." My experience from that time was why I returned this past summer. Along with several other PLU students and Professor of Anthropology David Huelsbeck, we came to volunteer at Tribal Journeys, one of the largest Native American celebrations on the West Coast of the United States.
My first experience at Neah Bay taught me the warmth of the Makah people – I never had been welcomed so warmly by people I had just met. I returned to Neah Bay to not only continue to learn about the Makah, but to expose myself to the traditions of the many Northwest tribal nations attending the celebration.
On the day of arrival, almost 10,000 people crowded onto the beach to watch 86 canoes from as far away as Alaska address the Makah Tribal Council, requesting permission to come ashore. Quileute, Quinault, Tlingit, Swinomish, Cowichan, Warm Springs and Lummi are only a few of the tribes to attend.
For 11 days, we were essentially the 'go to' people for anything that needed to be done. We were assigned as volunteers for elder hospitality, an incredibly honorable task of handling the needs of important tribesmen.
On an average day we volunteered for four to 10 hours – assisting elders, making sandwiches, driving people in golf carts, transporting salmon, directing traffic and hauling canoes from the water. In our off time we chatted with elders, went hiking, joined drum circles and ate fry bread. No matter what we did, we learned a great deal about native culture – and a little about our own traditions.
I come from an extensive Scandinavian family that hosts a Smorgasbord around Christmas and garlands its trees with Swedish and Norwegian flags. My time with the Makah taught me to look at my own culture in a way that is not simply seasonal.
I think of the Makah who participated for six hours of dances that have never been performed before and may never be again. These songs and dances are not only an incredible form of expression, but the right to perform them are the most valued property a family can have.
I was captivated by that dance. Not simply the beauty of the performance, but the value in that gesture. It left me with a desire to "live my heritage" more thoroughly.  To me, appreciating who I am through understanding my heritage impacts the actions I make on a daily basis.
To have been a part of Tribal Journeys was an experience that I never, in my wildest dreams, considered a possibility. This fantastic experience broadened my gaze from a simple love of the discipline of anthropology, to a passion for the subject.
More
Read about what Professor Dave Huelsbeck has to say in Respect needs to be shown for the Makah culture and the whales, as well as Learning anthropology by doing anthropology.