Currently Reading:
From PLU, to Iraq, and Back
November 1, 2010
From PLU, to Iraq, and Back
When Barrett Bollen '12 settled into the starting blocks for the 400-meter hurdles finals at the 2010 Northwest Conference Track and Field Championships in Spokane last April, 10 hurdles measuring 36 inches in height separated him from the finish line.
Compared to the hurdles that Bollen crossed one year earlier as a member of the United States Marine Corps in Iraq, those 10 hurdles seemed like a walk in the park.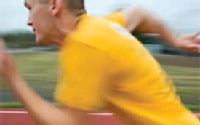 But more on Iraq later.
Bollen, running only the third 400-meter hurdles race in his life, surprised most everyone by winning the conference title with a time of 56.13. In doing so, he lowered his personal best by more than two seconds. It was only Bollen's third time running the event, including the first time when he tripped over a hurdle, got back up, and established a conference meet–qualifying time.
The hurdles title capped an outstanding meet for Bollen, who placed fifth in the 400-meter dash in addition to running the second leg on both of PLU's relay teams. Two weeks earlier, Bollen finished fifth in the conference decathlon championship meet.
At first, track and field didn't come easily for Bollen, who grew up in Grayland, Wash., a small community located on the central Washington coast. In the eighth grade he finished last in a 400-meters race. He took that as a personal challenge. By the time he was a senior, he shaved 30 seconds off of his time and ended up placing fourth in the state.
PLU track and field, and cross country head coach Heather Kreier saw him while he was an athlete at tiny Ocosta High School. "When I saw him as a recruit, he was this highly positive and talented kid – and he could back it up."
It was a quality that Kreier valued. When he got to PLU, Bollen's athletic career was ready to take off.
And that's when the military called.
Bollen had enlisted in the Marine Corps in July 2005 when he was 17-years-old. A year later – one month after his high school graduation – he went to boot camp at Marine Corps Recruit Depot in San Diego, graduated meritoriously, and was promoted to private first class for earning a perfect score on his Marine Corps physical fitness test. After attending combat training and occupation specialty school, he checked in with his reserve unit at Fort Lewis in December 2006.
In the fall of 2007, Bollen's first semester at PLU, his unit received activation orders for deployment to Iraq. He took that "ready-to-go" attitude into Iraq's Al Anbar province, where his unit conducted security missions from April through October 2008. The unit was then deactivated and Bollen returned stateside. He re-enrolled at PLU and resumed classes in January 2009, but remains involved in the Marine Corps Reserves as a corporal.
Bollen came back ready for his first full season as a member of the PLU track and field team. His natural leadership abilities had been refined by his seven months in Iraq.
"I know that being a Marine has done a great deal for me in terms of making me a better leader and athlete," Bollen said. "Everyone has the capacity to be a great leader, but inspiring others only comes as a result of individual effort. Simple things like a positive attitude, good work ethic, accountability, and confidence can prove to others and to me that success is always possible through initiative."
Bollen may or may not choose a career in the Marine Corps. His current focus is to earn a degree in history by May 2012, two months before his six-year contract with the Marines expires.
"When I joined the Marine Corps I only wanted to return the service that others had provided for me," Bollen said. "I had always planned on going to college and pursuing all the things that made me happy, but I didn't want to do those things until I had proved to myself that I had earned the right to do so.
"I believed that there was no better way to earn that happiness than to serve my country and family in a time of conflict, and I stand by that belief to this day."