Currently Reading:
A commitment to educating the entire student
November 1, 2010
A commitment to educating the entire student
If you want to see the intersection of athletics and academics in the lives of PLU students, look no farther than Molly Stuen '72 and Zenon Olbertz '71.
Both were athletes at PLU – Molly raced for the ski team and Zenon played football. The couple, who later married, met on the slopes of Whistler, B.C., where the ski team was practicing.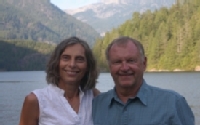 Molly is also the granddaughter of Ole Stuen, former German, Norwegian, math and science professor, as well as the school's first basketball and tennis coach. Ole Stuen built PLU's first tennis courts, right where Red Square is today.
Call it educating the entire student. It has been something PLU has been doing since its inception. And it is something both Olbertz and Stuen believe is worth supporting.
"There are academics here, and they are the most important," Olbertz said. "But there are also athletic programs here that need support – not just for the athletes [playing intercollegiate sports], but for all of the students. It is part of college life."
Olbertz took matters into his own hands when it was made known that the floor of Olson Auditorium – where one of his two daughters, Anella '10, played volleyball – needed resurfacing. He gathered a group of donors to help pay for it.
Since then, he has been involved with helping the university make other athletic facility improvements. He sees it as a great way for others – alums and community members – to make a connection with PLU. "People would feel much closer to the school," he said.
All this wouldn't be important, Stuen and Olbertz agree, if PLU's mission wasn't something they could believe in. They do. Their other daughter, Elaine '12, also attends PLU. Stuen, who volunteers for PLU as the alumni representative for her class of 1972, points to the university's continuing focus on global education, as one of many things PLU does well.
Add that to PLU's commitment to academics, to service – even athletics – and you are educating the entire student.
"The students who graduate from here are students of life," Stuen said.