Currently Reading:
Ramstad Scholarship a fitting tribute to a PLU leader
November 1, 2010
Ramstad Scholarship a fitting tribute to a PLU leader
Gifts in memory of a loved one are a cherished part of the close relationship with the university that are often built by PLU families.
There is surely no more poignant example of this than the establishment of an endowed scholarship by family and friends in memory of Marvin J. Ramstad '38.
The scholarship is the recognition and reaffirmation of the significance of one young man's college experience, an experience that totaled only two years but would serve him for a lifetime.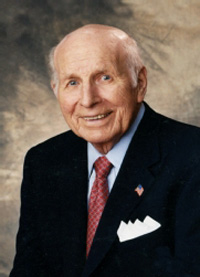 In 1936, at age 16, Marvin Ramstad left the family farm in North Dakota after graduating from high school. He was headed to Pacific Lutheran College where his cousin, Anders Ramstad (for whom Ramstad Hall was later named), was a professor of science, mathematics and religion and dean of men.
It was Anders Ramstad's role as founder of the PLC football program that would change Marvin Ramstad's life.
"Dad spent two years at PLU earning his AA degree and absolutely loved playing football there," said Marvin Ramstad's daughter, Judge Sheryl Ramstad. "He would often tell us how he considered his time at PLU to be when he really got his start in life and how it gave him his fondest memories of college."
Sheryl Ramstad said the family could think of no more fitting tribute than establishing a scholarship. "He was proud of his PLU heritage," she said.
His time at PLU served Ramstad well. He went on to earn a degree in mining engineering from the University of Washington, taking time off to pay for school by working in a gold mine northeast of Fairbanks, Alaska, near the Arctic Circle.
He served as a naval officer in World War II, met and married Della Mae Fode and eventually settled in North Dakota. Employed in his father-in-law's automobile and machinery business, Ramstad rose through the ranks to retire as president and CEO of Midwest Motors.
The Marvin J. Ramstad Endowed Scholarship, totaling $25,000, was funded 50 percent by Sheryl Ramstad and her brother, former U.S. Congressman Jim Ramstad, and 50 percent by more than 200 other family and friends. That makes it among the gifts with the largest number of contributors in university history.