Currently Reading:
Why does Angela Pierce care about social justice?
November 1, 2010
Why does Angela Pierce care about social justice?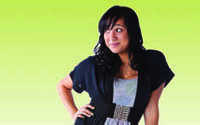 Angela Pierce is the daughter of a Filipino mother and a Caucasian father. She never saw herself as white.
At some point, however, Pierce realized other people did see her as white. She noticed when she saw people treating her different than they did her mother. It was then she knew she would be an advocate for social justice – even if, as she said, "I didn't know the language [of social justice] yet."
PLU helped her figure that out.
As a diversity advocate, Pierce played a primary role in coordinating the Students of Color Retreat, which is in its seventh year at PLU. It is a chance for students to come together and talk about their experiences with identity development. As a student who struggled with some of the same issues, Pierce wanted to make sure there was a safe place for students to discuss such issues.
Pierce is happy to help students find that comfortable place, and PLU's Diversity Center offers the chance to do just that. Pierce said it is the perfect place to come and learn about yourself – and others.
"Come and hang out, and you will find something to get involved in," she said. "Just show up."
For Pierce, there is no wrong way to get involved.
"Social justice to me is speaking up for those who are left unheard – and helping others find their place," she said. "You can get involved just by speaking up in class."
To see why other PLU Diversity Advocates care about social justice, click here.