Currently Reading:
Why does Carrie Hylander care about social justice?
November 1, 2010
Why does Carrie Hylander care about social justice?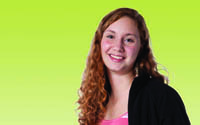 When Carrie Hylander wrote about diversity issues in her entrance essay to PLU, her admissions counselor told her that she would be the perfect candidate for the Rieke Scholarship.
Given that connection, it makes sense that Hylander works with the program "Word Up," which focuses on inner-group dialogues about social justice and equity, with emphasis on first-year students.
"We learn about the language we use and the impact that language has on other people," she said. "We focus on who we are and how that effects what we're saying."
Hylander said talking about these issues is important at PLU because it enriches the learning experiences students have in the classroom. "College is more than just taking class and completing a major," she said. "It's about learning who we are and our place in the world."
Hylander said the Diversity Center helps her apply what she learns inside the classroom, outside in the real world. The focus, she said, is on action.
"There are so many opportunities at PLU to think about all of these different aspects of our lives and really think critically of how to better ourselves and our society," Hylander said.
"Don't just talk the talk, walk the walk," she added.
To see why other PLU Diversity Advocates care about social justice, click here.