Currently Reading:
Why does Maurice Eckstein care about social justice?
November 1, 2010
Why does Maurice Eckstein care about social justice?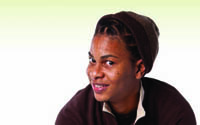 Maurice Eckstein '11 is a first-generation college student. The recent PLU graduate, from Trinidad and Tobago, learned about social justice indirectly after coming to PLU.
"I didn't really know a lot about social justice before I got here," he said. "When I came here I was forced to become aware of it."
Eckstein said that he felt thrust into the realm of studying social justice when he realized he could identify with the African-American community because of his appearance. Back home, in his very culturally diverse Caribbean nation, his appearance didn't cause him to stand out. Here, that wasn't always the case. It allowed him to look at issues in ways he might have never considered before.
For instance, Eckstein has been wrestling with concept of privilege – the idea that some people have advantages in life that others do not. The most obvious example might be access to a university education.
"College was not an automatic thing for me," he said.
It isn't for a lot of people. And by simply looking at his – and other's – opportunities through that lens has been important to how he sees the world.
"It's absolutely necessary to pay attention to this aspect of understanding issues," Eckstein said. "I'm trying to ensure [what students] bring to the world is genuine."
At PLU, Eckstein helped students from around the world acclimate to the PLU community, and he was always thinking of new ways to advocate for them. He played a primary role in organizing multicultural night and "Global Get-Down," where students can showcase a piece of their culture and learn about other cultures.
 
To see why other PLU Diversity Advocates care about social justice, click here.