Currently Reading:
Lute enters Folgers jingle contest and wins
December 2, 2010
Lute and her pals from Montana win Folgers jingle contest
Oh why not?
That was the general idea when Jenny Snipstead and her friends from Montana decided to enter a Folger's Jingle Contest.
The grand prize was $25,000 and the winner would get a chance to record their jingle and see it played on national TV.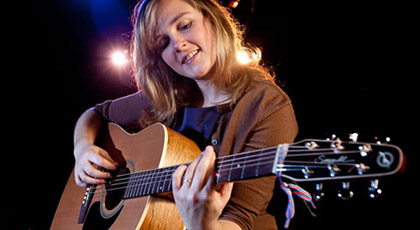 Snipstead, '11, said neither she nor her friends really thought they had a chance. But now, six months later, Snipstead, 20, is still pinching herself. The Hispanic Studies major was collecting her bags at Sea-Tac Airport Friday afternoon, and a bit breathless. She and her bandmates had just spent a whirlwind week in Los Angles recording the jingle and the "behind the scenes" video of the event. Look for Snipstead, who will be singing the jingle as part of the Ethan Thompson Band, sometime after Jan. 19th on national television. A download of the song will soon be available off the Folger's website, she said."(Ethan Thompson) is a friend of mine from high school, and we all grew up performing and singing together," Snipstead said of her friends she performed with at Flathead High School in Kalispell, Montana. Ethan heard about the contest, and he asked Snipstead if she wanted to collaborate with him. The group submitted their jingle in the spring, and when the contest was opened up to video voting (much like the PLUtonics and the America's Got Talent contest this summer), the jingle was picked as one of the top ten out of over 1,000 submissions. In June, it was off to the Big Apple for the group, as their video became one of the top five under consideration by the coffee company.  And much to the group's amazement, the lark transformed itself into a contract and the $25,000 top prize.
Snipstead plans to use her part of the winnings to help pay for tuition. This January, she will be heading out to Ecuador for J-term. When she graduates, she plans to find a job to put her bilingual skills to use, and of course, her musical talents.
"Music is a huge passion of mine, but so is helping people, so we'll see," she laughed, while strumming her guitar in The Cave earlier this fall. Oh, and does she even like coffee?  Do you have to ask? Of course.
After all, it's the best part of waking up.