Currently Reading:
Jessie Klauder finds a swimming regimen that treats the whole student
March 24, 2011
Jessie Klauder finds a swimming regimen that treats the whole student
Jessie Klauder '11 made the decision a year ago. During J-Term of her senior year, Klauder would participate in the School of Nursing's first study away program in China, where she would take a class called Traditional Chinese Medicine.
As a nursing major, Klauder figured that the class would help round out her education in understanding and treating the whole person.
The decision to spend January in China, however, conflicted with an equally important part of her life. Klauder is a member of the PLU swimming team.
And she's no ordinary swimmer – she qualified for the championship finals in five individual events during her first three years at PLU.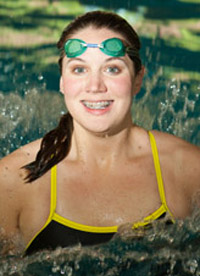 While Klauder dove into her studies at the University of Chengdu, learning how to classify diseases and diagnose patients according to medical theories based on the Chinese concept of yin and yang, across the ocean the PLU women's swim team hosted four Northwest Conference opponents, losing to three of them. Klauder's desire to study away during her competitive season points to a decision that some Lute student-athletes, and their coaches, face every year: How does the student-athlete balance the personal expectations of being a student with the personal and team expectations of being an athlete?For Klauder, there was little hesitation.
Growing up in Klamath Falls, Ore., Klauder learned early from her parents, John and Christine, to work hard in both the classroom and in athletic endeavors. But "school always overrode swimming."
Good grades, her parents told her, will get you to college. And good college grades, Klauder knew, would get her into nursing school. She has taken that to heart, earning Dean's List recognition during each of her semesters at PLU and entering her last semester with a 3.71 grade point average.
Over time, Klauder came to understand how academics and athletics at PLU worked together to make her a more rounded individual.
"Watching my nursing buddies being stressed out, it was during my sophomore year I realized that I need swimming because it helped me as a nursing student," Klauder said. "They balance each other really well. For my mental health, swimming is very therapeutic."
Classes and clinical work in her major have caused her to miss a number of team practices over the years. For instance, during her sophomore year, Klauder would miss Tuesday and Thursday workouts because of clinicals. She has worked cooperatively with the PLU coaching staff in making up missed practice time. "If I wouldn't be able to do both," Klauder said, "I wouldn't function as well as an individual."
So when it came to choosing China over a month of competitive swimming, Klauder was committed to her nursing studies.
She spoke to Matt Sellman, himself a former PLU swimmer and the first-year head coach, telling him of her J-Term plans. But when Klauder swam particularly well at the start of the season, Sellman asked her to reconsider her study away plans. Continued hard work, he told Klauder, could lead to her achieving a time good enough to earn a berth at the NCAA Division III national championship meet, a feat that has been accomplished by only one PLU swimmer since 1998.
Even though Klauder admitted that she "would love to get a national cut (qualifying time), I decided to stay on course. Coach was okay with it."
"PLU values the study away program," Sellman explained. "If swimming as a sport didn't fit into that philosophy, we would shoot ourselves in the foot. The swimming program is part of the greater PLU community, and as their coach I want them to have the best experience they can have while they're students at PLU."
There are tradeoffs, Sellman admitted, because of sacrifices made by individual student-athletes and by their teams when the student goes abroad during the season. "The teams lose out on you being there during the competitive stuff a little bit," he said.
Still, Sellman figured Klauder would be true to her word and work out while in China.
"China would not be an easy place to find a pool," Sellman said. "But Jessie was proactive in finding a facility before she went. Follow-through is important, and the only person holding them accountable is themselves."
Before leaving for China, Klauder asked individuals at the University of Chengdu to find a nearby swimming pool where she could work out. A 25-meter indoor lap pool was found approximately a 40- minute walk from the university. With workout plans provided by Sellman and her father, who had been her youth coach, Klauder usually met her goal of swimming 5,000 meters per workout, primarily in sets based on 100- and 200-yard freestyle and breaststroke.
In addition, daily four-mile runs with a fellow nursing student helped her stay in shape. "I wanted to prove that I was training when I was in China," Klauder said.
After three weeks of intensive class and clinical work, and a one-week tour of China's capital, Beijing, Klauder returned to campus. In her first meet back, swimming against rival University of Puget Sound, Klauder won two events and registered one of her best collegiate times in the 200-yard freestyle, her signature event.
"I was very surprised," Klauder said of her performance. "I felt really good the whole (practice) week in the water, but taking a chunk out of regular training can really hurt, especially endurance."
Klauder and her teammates then entered the Northwest Conference Championships in late February, a meet that marked the end of Klauder's college career. With the conference meet pushed back two weeks later than past years, Klauder had more time to focus on finishing her collegiate career with some of her best times. And she will get to do something equally important: to train with her teammates.
"Not only do I love the sport, I really love the team," Klauder said, noting that she is one of six seniors who are wrapping up four-year stints with the swimming program. Five of those seniors are women. "I have some really close friends, and I'm always going to have that," she said.
And she'll also have the memories of a month spent studying in China.