Currently Reading:
Learning from the floor
April 25, 2011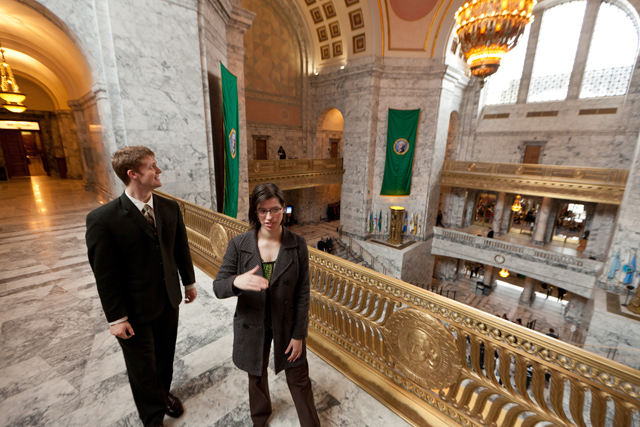 Learning from the floor: PLU students head to Olympia, join the front lines of public policy.
Under the Capitol dome in Olympia, Wash., Robert Lynam's office is pretty much a glorified closet. Remove the computer, phone and a tattered Seahawks poster, and it would be a closet.
But if you ask Lynam '12, he'd tell you there's no better place to be.
If you're going to work in a closet, then Lynam's closet is about as good as it gets. It sits between the Washington state Senate floor and the office of his boss, Republican Senate Leader Mike Hewitt (R-Walla-Walla). If it is important to the state of Washington, from where Lynam sits, it's hard for him not to hear about it.
"I usually keep the door open because I like to hear people talk," the political science major said. "And it gets really hot in here."
It also gets a bit hot, Lynam has learned, when elected officials are hammering away at difficult budget decisions. And of that, Lynam and fellow PLU student, Bridgette Cooper '11, have a front-row view.
"By far, I think it's one of the best times to be down here," Cooper, a legislative intern for Sen. Derek Kilmer (D-Gig Harbor), said.
As legislative interns, both students spend long hours listening and responding to the constituents of their senators, often writing letters in response to those questions. They also give tours of the Capitol and, in general, support their senator – and their senator's staff – with whatever needs to be done.
Being a legislative intern is not an easy job, Lynam said. There is down time, but the nature of public policy is immediate reaction. In a lot of ways, he thinks he over-extended his commitments for the semester by having the job in Olympia and being part of the crew team at PLU. He loves both, but days that start at 5 a.m. and end at 8 p.m. have worn him a bit thin.
"We're all tired," Cooper said. "But it's great because we love the work. After it's (the legislative session) done we'll probably all sleep for a week."
That Cooper has come to love this job is something of a surprise– she never thought she'd pursue a political science degree when she first came to PLU. She had a passion for Egyptology, but after a trip to Egypt working in the Valley of the Kings, she decided it just wasn't her "cup of tea" anymore. A few political science classes later, and she's been drawn to public policy.
"It was a change, but I couldn't have asked for a better university experience," Cooper said.
For his part, Lynam, a transfer from Olympic College, had a similar experience.
"I was really attracted to a smaller school and having a more personal relationship with the professors," he said. So he came to PLU –and he got what he wanted.
One of the first classes he took was with political science professor Ann Kelleher. It helped spark his interest in the political process. The insight gained from that class was enough for him to apply for a legislative internship.
For both Lynam and Cooper, a lot of their time is spent researching and responding to constituent concerns. While answering hotline phones, often times the person on the other line has a lot to say and can even be angry.
"It was hard the first couple of times," Cooper said, "but you can't take it personally because it's not personal."
In one instance, a caller actually told Cooper he was just going to rant for a while. She appreciated that. She understood that the caller simply needed someone to voice his concerns to.
"I think that's the best part of our job," she said. "We're here to listen and make sure they have a voice."
None of the calls are taken lightly, they said. Each is taken seriously, researched and responded to according to their senator's policy stance.
The experience requires a thickening of skin, but also the ability to be flexible, Lynam said. It's not uncommon for the legislative schedule to change two or three times in a day. One time, it changed 12 times in one day, Lynam said.
"It's a quick learning curve. There were definitely those deer-in-the-headlights times," Cooper said of the internship that spans from January to April.
Cooper said this experience has prepared her for that first job out of college.  Eventually, she hopes to return to Olympia as a session aide for a legislator. Lynam said his time at the capitol has sparked interest in pursuing a post-graduate degree, either in law or with a business focus.
"It's taking what you learn in the classroom and pitting it against real life," Cooper said. "You have to want to be here though. What you learn you can't put a price on."
For the PLU students they felt they had a strong grasp of political theory and even the practice of public policy, but how that applies to real life was new to them. Decisions about what is important, what is the priority and how to pay for it, certainly changed some of their perspectives.
"That was a big reality check," Lynam said.
During this legislative session the interns have seen firsthand the tough decisions that have to be made and how there are many layers involved in legislative action.
Lynam and Cooper said they can't help but chuckle a little when they read about a new law that passes because they know the outcome was only part of the story.
"That's part of it," Lynam said. "But there are a lot of things that are a part of it."
And from his closet door at the state Capitol, he gets to see most of it.