Currently Reading:
Organist off the Grid
April 18, 2011
Organist off the Grid
Students and faculty often see Paul Tegels pedaling up and down the hills of Pacific Lutheran University's campus, rain or shine.
Tegels rides his bicycle every day, his common form of transportation, to and from his home close by.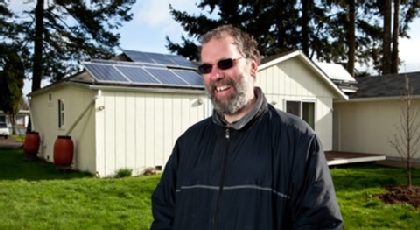 For PLU Professor Paul Tegels investing in sustainable energy is a no brainer. "We don't treat humans badly, we don't treat animals badly and we shouldn't treat the Earth badly," he said. (Photos by John Froschauer)
Tegels, university organist and music professor, humbly underscores his efforts of sustainable living, saying he doesn't have to go out of his way to do the right thing.
"I don't live far from campus, so it's not that much of an effort," he said. "It seems like the right thing to do that you take care of the Earth."
A native of the Netherlands, Tegels hails from a small town in the southeastern part of the region, called Ottersum. He developed an affinity for music early in life, learning the keyboard at the age of 13. Soon he started filling in for the organist at the local church, and from there his music career grew into a life-long vocation.
Tegels earned degrees from the University of Iowa, the New England Conservatory in Boston and the Stedelijk Conservatorium in Arnhem, located in the Netherlands. He said an organist has to go where the organ is, and PLU's organ fit the bill. While teaching in Kansas, he heard about an opening at PLU, and was already familiar with its organ. In 2002 he came to PLU, where he now instructs students and performs on the famous Gottfried and Mary Fuchs Organ, the largest one west of the Mississippi River.
Taking care of the Earth is something that Tegels prioritizes, and feels it is something that many people lack the motivation to do.
"We don't treat humans badly, we don't treat animals badly and we shouldn't treat the Earth badly," he said. "When you get involved more, you start thinking about it more."
Tegels recently invested in an effort that goes beyond simply replacing quick car rides for leisurely bike rides, when he became the first customer for Parkland Light & Water to enroll in the net metering system. This process allowed him to become his own source of power generation, by powering his home through the installation of 10 solar panels on his rooftop.
"It all sort of fell into place," Tegels said.
The idea sparked last summer, when Tegels was working with other faculty members and the Sustainability Office pulling weeds for a faculty involvement event. Chrissy Cooley, PLU's sustainability manager, directed Tegels' attention to the solar panel installed above a light post on lower campus. He was immediately intrigued, and started looking into where panels like those could be installed.
Tegels was then introduced to Brad Burkhartzmeyer, the founder and owner of Sun's Eye Solar Power, who helped him with the formal application process to move forward with the net metering process.
Although Burkhartzmeyer had gone through this process before, he said this was the first time Parkland Light & Water had ever done this.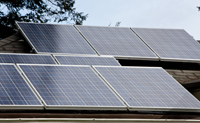 "They were very responsive and very open," Burkhartzmeyer said. Tegels was eager to invest in the project, and was surprised at the difficulty of carrying out his idea."I had no idea I needed special permission," Tegels said. "It was a learning process for me and for Parkland Light & Water."
According to an article in Ruralite, a publication distributed by Parkland Light & Water, net metering allows customers to get credit for the electricity they generate with solar, wind or water and send it back through their utility meter. Tegels said if he produces more energy than he uses, that electricity cycles through the grid which powers houses served by Parkland Light & Water.
"PLU could be using some of my electricity," Tegels said. "But I don't know how that goes."
In addition to generating his own power, and even a little bit more than he needs, Tegels is able to benefit from tax incentives as a result of this sustainable move. Also, any electricity he generates beyond what he uses earns Tegels monetary compensation from Parkland Light & Water.
Burkhartzmeyer said the return is roughly 7 cents for every kilowatt hour generated. He also said that going through this process guarantees energy in your home for at least 25 years.
"It's the only thing you can buy that actually pays for itself," Burkhartzmeyer said. "You eventually get your money back. After your initial expense there is no expense."
Burkhartzmeyer said a project similar to the one Tegels invested in costs roughly $11,000.
However, Tegels said the decision to install the panels was more than just a personal financial investment.
"I wanted to be a part of this whole effort to do the right thing and make my carbon footprint a little less," he said. "There's an inherent good thing about it. For me, that's the number one."
Burkhartzmeyer got the impression that Tegels background may have influenced his decision to move forward with this process. Either way, he said Tegels and many other clients don't just follow through with net metering for the personal benefits.
"Most homeowners don't do it for financial reasons," Burkhartzmeyer said. "They do it because they feel like they're helping prevent climate change."
More involvement in sustainable living is on the way for Tegels. He is currently preparing to install a hot water panel, which is designed to minimize electricity used to heat hot water in a home.
Tegels said there is a lot of misinformation circulating in an attempt to disprove the scientific research done about climate change. He said that enough scientific information points him in the right direction, and moving beyond science he said caring about the planet is simply common sense.
"If you live in a beautiful environment there's more of an incentive to care about the environment," he said.
It was PLU's organ that attracted the green professor to the institution, not its mission for sustainable living. Tegels said everyone still has a long way to go before reaching a perfectly green lifestyle, but he said the goal that PLU has for a healthier planet is the first step.
"It's very much the mindset of the individual that will determine where we go with all of this," Tegels said. "Education and honest education is a crucial factor in that."