Currently Reading:
Lute reaches for the stars
April 17, 2011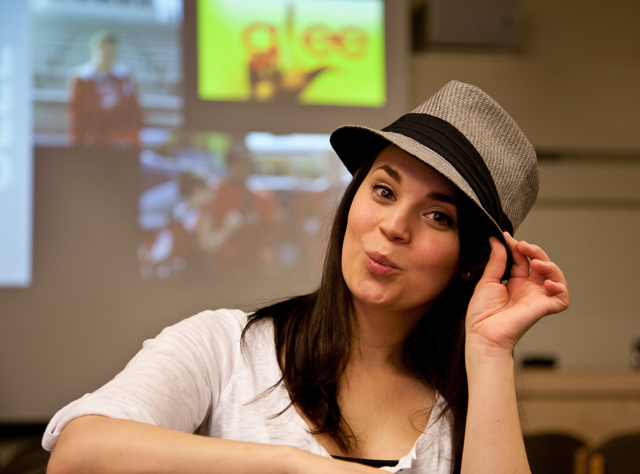 Rosanna Pansino advises wannabe actors to believe in themselves and be persistent. The 2007 graduate came to PLU last week as part of a MediaLab speaking series.
Lute reaches for the stars and lands work on hit series Glee
When Rosanna Pansino arrived at PLU, at first she thought she wanted to be a nurse. Then maybe an FBI agent. Or perhaps a television journalist.
But it was during her last class, taken after she graduated in 2007 (she needed to earn a pesky arts credit) that she found her true calling and passion –acting. After that solo performance class, she took a private studio class, which led to key connections and a successful career in Hollywood, including nailing a non-speaking part in the FOX hit Glee, about outcast teenagers in a Ohio high school.
"PLU was a warm community, that helped me sort through what I wanted to do," Pansino, 25, told a group of students during a series of lectures and film screenings produced by MediaLab last week. Small classes and attentive professors also helped her get through her studies and overcome dyslexia (another reason she decided against journalism as a career-she just couldn't keep up with the teleprompter.)
The solo performance class helped the 4-foot-10-inch Pansino battle her innate shyness and sparkle in her new-found calling, she said. She also credited trying out for the Lute cheer squad and teaching English in China during a J-term trip with helping her push herself through a natural reserve.
"Actually, Dr. Anderson stopped in at one of my classes one day and asked if I'd considered going to China during J-term. He'd found out I could speak some Chinese," she said later, at her Gig Harbor home. "I hadn't thought about it before, so I decided, why not?"
And then there's her height. The diminutive Pansino said that being short has actually helped her land parts as teenagers, and giving her a competitive advantage over older actresses.
Her advice to those prospective actors, yearning to be on a hit show? Persistence, persistence, persistence – both in trying out for parts, and garnering that coveted SAG (Screen Actors Guild) card, which in the acting world, means you can work on union sets and receive union pay. Some actors work for years to get that card, while others, like Pansino, managed to land it in a matter of months – in no small part as working as a hand double in Ghost Whisperer. Yes, they have those in the TV biz.
Get an agent, which will be key to getting you to those auditions to get that SAG card, she added. Pansino found her first agent through connections she made at an acting studio class she took the first summer after she graduated.
Have patience with your career. Look at it in the long term, she advised. For example, Jennifer Aniston was in five failed pilots before she landed her role on "Friends." Pansino has already been in one failed pilot, "so I figure four more to go," she quipped.
"I don't care if I'm 90 by the time I get that feature role in a film," she laughed. "I plan to rock the crap out of it."
This career has also taught her to deal with rejection. Sure it hurts, she said. But it's also taught her to do her best and bide her time for the right role.  She deals with the stress and "craziness of the business" through running, kickboxing and playing video games.
"It's not you," she said. "If they want a tall blonde, well, obviously that's not going to be me."
As for advice for PLU students? Try out everything that interests you, she said. Push yourself out of your comfort zone. "I can't tell you how I regret not getting involved with the theater here," she laughed.
A self-described nerd, Pansino recognized she's been incredibly fortunate to have landed a slot on Glee, attend award shows and even hob nob with well-know directors like James Cameron.  As for what the future holds?
She will continue to audition for roles during breaks in Glee, and would love to work with Danny DeVito. She'll have to practice on this last goal though, she added.
"If I met him now, I'll probably just stare at him…and embarrass myself," she said.