Welcome to MediaLab
Welcome to MediaLab, an applied multimedia and research program based in the School of Arts + Communication at Pacific Lutheran University.
MediaLab is an award–winning, student–run media organization with expertise across the media spectrum. Whether you need market research, photography, graphic design, writing, video, public relations, event planning, or more, MediaLab can work for you.
Please explore our site and contact us if we can be of help, or provide you with any additional information.
MediaLab Wins College Emmy
MediaLab has taken home a 2021 College Emmy Award for its documentary film Eyes Above: Militarization of Sacred Land. The film received the College Emmy award in the long-form non-fiction category for the Northwest Chapter. The award was announced at the 58th Annual Northwest Regional Emmy Awards on June 5th, which was streamed on the website of the Northwest Chapter of the National Academy of Television Arts and Sciences. This accolade marks the tenth Emmy nomination and second-ever win for the student-staffed media organization.
Eyes Above: Militarization of Sacred Land explores how the increased militarization and surveillance on the Mexico-U.S. border has affected members of the Tohono O'odham Nation in Arizona, who reside on one of the U.S.'s largest reservations and have traditional lands that extend on both sides of the border.
The film was produced and directed by MediaLab students Brennan LaBrie, Hallie Harper, Hanna McCauley, Sarah Ward, Raven Lirio, Emily Groseclose, Ben Leschensky and Seley Nemish. MediaLab students Rosemary Bennett and Armanda Dupont comprised the film's graphics team, and PLU Communication Department faculty member Dr. Kate Hoyt served as advisor on the project.
The film premiered on April 1, 2021 on the Pacific Lutheran University YouTube channel, with discussion panels featuring film subjects and the filmmakers following the screening. To view the premiere, click on the button below.
Turning the Page: The Story of Next Chapter
Local nonprofit Next Chapter is tackling the issue of homelessness in greater Pierce County, Washington. Co-founders Monique Patterson and Kathryn Hedrick, as well as Next Chapter clients, share their stories of resilience, hard work and community in their journey to house single mothers and their families.

Join us on the PLU YouTube channel to watch the premiere!
Learn More
Learn more about the film and RSVP for the film premiere here: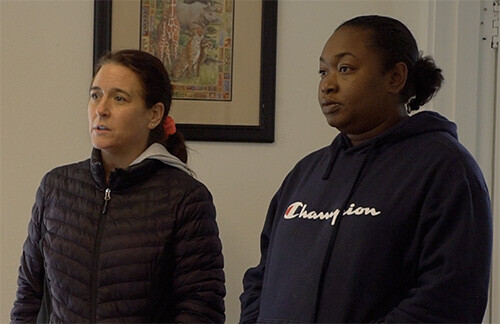 Eyes Above
MediaLab premiered the 2020 documentary Eyes Above, which covers surveillance technology and how it impacts society today. This technology is radically shifting the current landscapes in politics, law, intelligence gathering, military operations, law enforcement, and other prominent industries and disciplines. MediaLab is proud to have traveled to Arizona to visit the Tohono O'odham Nation along the Southern border to document and discuss the impact of surveillance technology on Native American tribal lands.
Join us on the PLU YouTube channel to watch the premiere!
Watch the film trailer below!