Currently Reading:
Beyond the uniform
April 15, 2011
Beyond the uniform
The sun isn't up yet, but the PLU ROTC cadets are already standing in formation Olson Gym.
A typical day for these dedicated cadets, starts at 6:30 a.m. with physical training.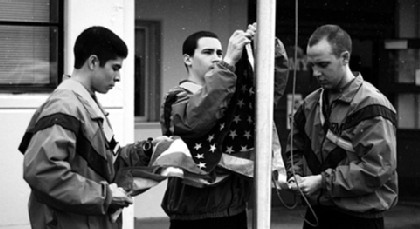 But many of the cadets take the army phrase, "if you're on time, you're late," to heart, so by the time P.T. starts they've already been assembled for awhile.
Cadets get in formation, and proceed with P.T., which consists of circuit workouts – including pull-ups, sit-ups and a two-mile run. They are regularly tested on their level of physical fitness, with P.T. on Mondays, Wednesdays, Fridays and most Thursdays, said Seth Daniel, a cadet and PLU junior.
By 7 a.m., the cadets have wrapped up their fitness training and raise the flag in front of Memorial Gym in a formal ceremony. Then all cadets go to breakfast together. The 100-plus cadets can be spotted around campus in their uniforms on campus, but what they do everyday to earn that distinction goes well beyond creased shirts and pants.
"I'm astonished at the number of students willing to step up to the plate and serve their country," said Major Danl Connelly, a cadre member of the ROTC program and military science instructor.
The ROTC program isn't all service without reward, but requires students to train for military service as officers and be competitive students within their majors. They receive a full scholarship from the military for up to 4 years and a living stipend as ROTC cadets. Upon graduation, they are commissioned as officers in the military and serve at least eight years in the military before they can decide to become civilians or retire from service.
The national program varies from college campus to college campus, as military officers train for the Army, Navy and Air Force. The PLU ROTC program is associated with the Army. PLU has served as a host for the program for the past nine years. This year, the PLU ROTC program was recognized as one of the best in the country among more than 270 programs, and received the MacArthur Award. For most of the students, after the early start for PT, the rest of their day is that of a typical college student's, except for the days they have military science class.
That's usually when other students around campus see the cadets in their full uniforms. There are rules to follow when wearing their full uniforms. They can only walk on established paths, and can't cut through grass. And talking on a cell phone while walking is not allowed. The uniforms show that cadets are part of an honorable cause, of something larger than themselves, said cadet Kiyeon Lee, a first-year student.
The military science classes are taken all four years of college, and are organized by the students' class year. The courses are taught by various members of the cadre, or ROTC instructors, with different members being assigned different years. Twice a semester, and once during J-term, cadets go to Joint Base Lewis-McCord to exercise those class skills in the field, such as orienteering.
Being a cadet in ROTC is only part of the students' identity.
"We're not all Army all the time. That's just part of what we do," said cadet Chris Wolf, first-year student. "Mostly we're just regular students at school."
They stand out because of their uniforms. What that uniform means demands excellence in all aspects of life, in and out of the classroom, said Lt. Col. Jason K. Schrader, professor of military science.
"We're not just a war-fighting program, but a making-the-world-a-better-place program," said Sgt. William Buckley, ROTC instructor. "We just happen to be wearing a uniform.
Previously published plu.edu material was used for this report.