Currently Reading:
Getting down to business – and winning!
April 26, 2011
Getting down to business – and winning!
Over Spring Break, six PLU business students took a deep breath and kept charging as a computer breakdown cut their time to complete a competition in half.
"Problems happen in the real word," said Vitaliy Marchenko, shrugging off the setback. And in the end, the lost time didn't matter.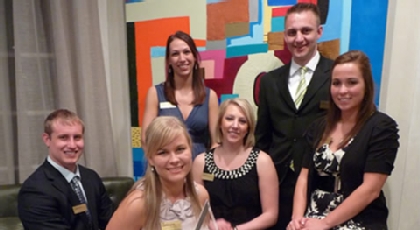 Senior business students Marchenko, Kasey Dorcas, Sanne Jacobsen, Alisha Fisher, Colin Zinnecker and Tiffany Brown competed in the International Collegiate Business Strategy competition in Long Beach, Calif. this April, taking home first place in Outstanding Performance and first place in Outstanding Reports. This was the first time PLU students have participated in the event. Even with the unexpected time crunch, the group successfully submitted a series of quarterly business reports, relying on each other to get the job done. It paid off with first place finishes in multiple categories of the competition.
"I wasn't too surprised," said Kory Brown, assistant professor of business and the group's advisor. "The six individuals we sent are just outstanding students."
For more than four months, the six PLU seniors worked toward making the decisions as an executive team of a corporation. Collectively, they spent nearly 2,000 hours working on the competition.
"It's literally like having a full-time job," Zinnecker said.
The International Collegiate Business Strategy competition provides students with the opportunity to learn and compete with other universities through simulating the running of a company, as well as networking with business leaders and students from around the world.  The 47-year-old competition challenges students to work together in making decisions that Fortune 500 executives must make every day.
Twenty-five teams competed in this year's competition. The students worked on 20 quarters – a total of five years worth of business decisions.
"This is just an outstanding opportunity for our students to experience the top level of industry," Brown said. "They are now going to walk out of PLU not only with their degree, but an understanding of all dimensions..not just the one they're trained in."
For these high-achieving students, it was a challenge for them to work in a group dynamic where one person wasn't doing all the work, Dorcas said. Each team member learned when it was time to step back and trust the work by another team member. As an executive team, members acted as a CEO, CFO, controller, vice president of marketing, vice president of production and finally, vice president of sales.
"We needed to learn how to mesh," Fisher said.
As their faculty advisor, the students credit Brown with unmatched guidance. But being the group's counselor also meant letting them work out their own leadership role and strengths.
"It was important to find out who each person was," Marchenko said. "For me it was getting into a social group, instead of working on my own."
Added Zinnecker: "It just kept getting better and better the more we learned to work together. Now I can say there's not a group of people I'd rather work together with."
Even if they didn't win – which everyone insists wouldn't have been the case – they still would have found the experience itself invaluable. Just getting to know the other five people on the team was worth the work, Jacobsen said. And winning wasn't the end goal for these students.
"For me the end was just a confirmation," Marchenko said.