Currently Reading:
Desmond Tutu urges Tacoma community to "Be the Spark" that changes the world
May 15, 2011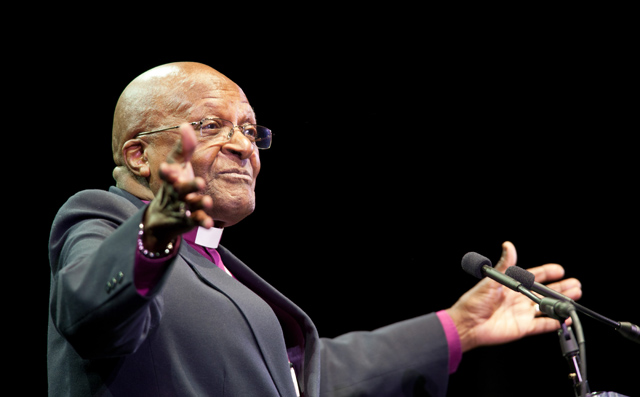 Tutu urges 15,000 in Tacoma Dome to be the spark that changes a community, a life.
By Barbara Clements
If you see people who are hungry, feed them. If they need pants, give them a pair. After all, Levi's are not just going to float down from above. And, in the end, our humanity is ultimately defined by our relationship to each other.
These clear, concise messages were delivered last Friday night in the Tacoma Dome by Archbishop Desmond Tutu before a capacity crowd of 15,000 people – including at least 1,500 roaring Lutes, judging from decibel level – as part of the Greater Tacoma Community Foundation's "Be the Spark,"  a movement designed to inspire action to make the community a more positive, caring place to live.
"Though God is omnipotent, he has decided that he will no longer do anything without the help of human partners," said Tutu.
From the overthrow of apartheid in South Africa to the civil rights movement in the United States; all these efforts began through the acts of ordinary people, he noted. Sometimes spectacular acts are called for, as in the story of Moses, but other times, great events begin with simple actions, such as a tired Rosa Parks deciding to stay "and refusing to move" on a bus.
Tutu was the keynote speaker in the event that included performances by the PLUtonic and Hermonic a cappella groups, as well as songs performed by PLU students Charlie Herrmann '14, Susan Keyl '14 and alumna Crystal Aikin '97. Mycal Ford, '12, acted as one of the master of ceremonies during what turned into a three-hour pep rally for good.
Aside from the entertainment, PLU was well represented in the audience. The 1,500 tickets set aside for the PLU community were snapped up in a matter of hours in April, when they went on sale. Sections of the floor were crowded with Lutes and the football team, all wearing yellow T-shirts, were evident in the stands.
PLU, along with UPS, was a key sponsor of the event. A year ago, President Loren J. Anderson, along with his wife and chair of the GTCF, MaryAnn Anderson, began helping plan Friday's celebration including bringing Tutu to Tacoma for his last U.S. tour.
"We wanted to give a gift back to the community that was unique and powerful," President Anderson said at a private dinner for Tutu before the main event.
Tutu one was of the leaders of the push to end apartheid in South Africa, which led to an overthrow of the racial segregation laws and the election of Nelson Mandela as president of the country in 1994. Tutu received the Nobel Prize for his efforts in 1984.
During the dinner, Tutu stressed to the crowd of 600 that our humanity depends on recognizing our interdependence with one another.
"None of us are self-sufficient," said Tutu. "And if you are truly that, you are subhuman."
Later in the evening, Tutu said God likely weeps when he sees what human beings do to each other through war, rape, murder or just practiced callousness of doing nothing about the worlds ills. But God dances in joy when he sees humans deciding to take a step for good, as 12-year-old Craig Kielburger did in 1995, when he decided that child slavery should stop.
A youth activist and the three time Nobel Prize nominee, Kielburger told the crowd that he was scared to come before his seventh-grade class in 1995 and demand they do something to stop child slavery in the world. That spark of outrage resulted in the charity Free the Children which now has 3,500 chapters and provides daily education to 55,000 children.
Tutu noted that not everyone is called to start an international organization, but urged the crowd to do something, anything, to make their community better. One small act can make a difference, he said.
Washington Gov. Christine Gregoire urged the group to unplug from the computer and reach out to people in the community. She also noted to the crowd "that this will be an evening that you look back at for the rest of your lives."
Ford '12 said that was certainly true for him. Ford said he will never forget his brief meeting with Tutu on Friday. It changed his outlook and his entire perspective.
"Tutu said something that really stuck out to me," he noted after the event. "Tutu said that each of us is one of a kind. In other words, if each of us is one of kind, then that makes us rare. There is value in rarity, therefore I am valuable. This is profoundly encouraging."
And it was was also true for PLU student Ariel Madden '13, who attended the event with her roommate. Both Tutu and Kielburger's messages "witnessed to the power of individuals to make global changes," she said after the event. "The event, its participants, message, supporter, made me so proud to be part of this city."